Monday, June 23, 2008
Summer break is no time for rest on the Hampshire campus, with construction projects, both major and minor, underway. The updating and expansion work targets buildings from student residences to academic space to specialty facilities.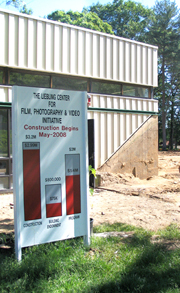 "We're constantly reassessing our priorities and tweaking the capital improvements plan. Some big initiatives have begun," said Larry Archey, director of campus planning and economic development. At the forefront is renovation and expansion of the Liebling Center for Film, Photography, and Video—home to Hampshire's acclaimed programs in film and photography.

In May the college broke ground on the project, which entails adding 6,600 square feet of new space, as well as renovating 3,000 existing square feet of space. The project includes adherence to green building principles—a practice being implemented on all major renovation and new construction projects on campus, Archey said.

Bill Brand, professor of film and photography, calls the work a huge improvement for students in film, photography, and video. "We are looking forward to having a second large classroom that will double as a state-of-the-art screening room. We will also have a large area dedicated to digital photography and a digital classroom where students can learn video, photography, animation, and multimedia applications," Brand said.

Other improvements include enough office space for all film, photo, and video faculty and staff. The center's gallery will still be a central location, with its expanded "L" shape flowing into the new, enlarged building. "We designed the space so we can retain Hampshire's tradition of learning across mediums and foster a supportive community of creative critical thinking and making," Brand said.

Fundraising for the Liebling Center is ongoing. "We have raised more than $3.1 million of the $3.2 million goal for construction, and we're now focusing on funding new computer stations, projectors, and other needs," said Kim Klein, major gifts officer. "We also must raise $700,000 for the building maintenance endowment."

Those interested in supporting the Liebling Center can find information on how to donate online at alumni.hampshire.edu/giving/campaign/liebling/brick.aspx

In student housing, work continues on a $3 million, six-year effort to renovate the Enfield House apartments. This summer crews are gutting and upgrading a number of the units, installing new kitchens, baths, and carpeting, and redesigning to make more open space.

The college is also working with students and alumni to upgrade the Enfield greenhouse.  "We're looking to design an environmentally friendly, sustainable greenhouse," Archey said. The estimated price tag for a new 300 to 400-square-foot, detached structure is more than $200,000.
Students and alums deeply attached to the greenhouse and the unique research opportunities it provides are helping. Students have held fundraising events and are working with the college's Office of Institutional Advancement to solicit funds.

At the nearby Greenwich House "donuts," three units are undergoing extensive, internal renovation this summer, and two additional units are scheduled for work next summer. "This will raise the current quality of life for students, while we continue planning our long-term housing needs," Archey said.

Across campus, the National Yiddish Book Center has broken ground this summer on its own ambitious project: a 22,000-square-foot expansion that will double the size of the building and provide classroom space, a student lounge, and a performance hall to accommodate the ever-growing demand for Yiddish education and programming.