Wednesday, July 23, 2008
To prepare students to make a difference in our interconnected, polyglot world, Hampshire College plans to become a polyglot campus.

Pioneering new ways to deliver education is part of the mission of Hampshire, and the college's new emphasis on world languages could potentially provide a model for language study everywhere.

The Andrew W. Mellon Foundation has awarded Hampshire College $730,000 to begin the transformation into a "language learning community."

For the college, known as an "experimenting" institution, this means substantial curricular revision and enhancement in the area of foreign language study. For the individual student, it means the exciting possibility to learn virtually any language.

"The support of the Mellon Foundation accelerates our making Hampshire College into a community more reflective of the world in which we live," said President Ralph Hexter, who has written extensively about the need for liberal education to focus on the future, promoting responsibility in the world and cultural understanding. Hexter called learning languages "a critical tool" for students and future graduates to "get things done in the world."

As a language learning community, Hampshire will tie language learning directly to student motivation by integrating the study of languages into those topics and questions of most interest to an individual student. All Hampshire students pursue individualized academic programs, engaging in substantial independent research and creative work in addition to taking courses.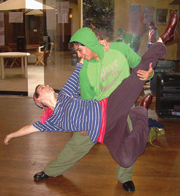 Example: The studies of Division III student (senior) Micaela Rich merge dance composition and performance, cultural studies, and Lacanian psychoanalysis, which focuses on how language and expression are life constructs. In summer 2007, Rich set up a project at a dance school in Lima, Peru, teaching dance technique to the so-called "boys from the street." She calls dance "a language of the body," but because the boys did not speak English, her knowledge of Spanish was essential. Although Spanish was her first language, spoken until age six, she often found herself challenged in accessing it. The indigenous Andean language Kechua was not necessary to her project, but some knowledge would have been helpful when boys from more rural areas came to Lima to work on a project with the city boys, and the two groups experienced translation difficulties.
The goal for Hampshire students will not always be near-native fluency, but the ability to operate sufficiently in the necessary languages to enrich their research projects. The study of language will be pursued like a craft, with different levels of mastery according to the students' academic program and as a means to an end.
The student, faculty mentors, and a language coordinator will identify the resources necessary for a student to learn the necessary language, or languages, at the appropriate level for his or her individualized academic program. The college will provide guidance for access of resources—on and off campus—to assist the student in attaining linguistic competence that will enrich every part of the academic experience—coursework, academic concentrations, independent study, off-campus experiences, even co-curricular activities.
Hampshire's membership in the Five College consortium (with Amherst, Mt. Holyoke, and Smith Colleges and the University of Massachusetts) provides strong offerings in an impressive range of languages. The Five College Center for the Study of World Languages offers students at all consortium institutions access to instruction in languages often referred to as "less commonly taught languages."
At Hampshire, which does not have language departments, new courses will be added across the curriculum, and existing courses reframed and revised, so that students encounter foreign language materials in a variety of ways.
Professors will be strongly encouraged to integrate languages into their work with students, said Dean of Faculty and Vice President Aaron Berman, whose office will oversee the program. "Professors will lead by example as they develop new skills and integrate them into their scholarly work and teaching. An impressive number of Hampshire faculty are interested in developing languages in addition to those they already command, and this generous grant from the Mellon Foundation will provide support for faculty engaged in acquiring new language skills," Berman said.
Support will also include hiring a director of world language enrichment and acquisition to advise faculty as well as students on ways they might more fully incorporate languages into their work. The language coordinator will serve as the primary liaison between Hampshire and the Five College Center for the Study of World Languages. Hampshire will further add to faculty resources through post-doctoral teaching fellowships related to world languages.
Hampshire's large-scale commitment to language learning comes at a time when many other colleges and universities are struggling to maintain language programs due to the expense, said Berman. Through its new approach, Hampshire hopes to fulfill its mission to be a source of innovation for higher education by presenting a highly adaptable model for world language engagement that can be modified and adopted by other schools.
The college already has a strong base upon which to build: Many Hampshire students already conduct research in international settings. Currently, 35 percent study abroad at some point during their time at Hampshire, according to the college's global education office.