Monday, January 5, 2009
Walking into the wrong class during her second year at Hampshire was fortuitous for Lily Henderson 02F. Within the first five minutes of "Documenting the Documentary" with film, photo, and media studies professor Joan Braderman, Henderson was hooked. In November, her film, Elderhood: Reports From an Unknown Country, premiered at the inaugural Hamptons Take Two Film Festival.

"Being at Hampshire has influenced everything I do," says Henderson. "On a practical level, all the classes taught me to be more critical and smarter about what I see."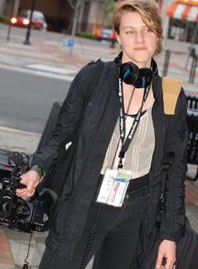 "Part of why I wanted to do a film about older people is that interacting with people who are older than you reminds you that you're only so big, that you have years and years to grow," she says. Elderhood was Henderson's Div III (senior) project, and after graduating in 2006 she sent it to several different festivals. "Looking back, I see it was choppy and messy—there were a lot of flaws to the film, so I cut it down to 30 minutes and submitted it to this festival."

Her hard work and perseverance paid off: not only was her documentary shown, but she also got to do a question-and-answer session before an audience of 300 that was moderated by Bonnie Grice from WLIU public radio.

Henderson came to Hampshire with a strong background in photography, but no plans to pursue film. Professor Braderman, impressed with her work, hired Henderson as the cinematographer of her documentary, The Heretics. "I couldn't have asked for a better experience after college," Henderson says.

After wrapping up her work with Braderman, Henderson moved to New York to do freelancing and an internship before landing a residency at Uniondocs, a nonprofit arts collaborative in Brooklyn. "Part of Uniondocs' mission is to screen films that wouldn't get past a couple of small film festivals but still have heart, truth, and power in them," says Henderson. "[This] is great because it keeps me going and excited about filmmaking."

She plans on being in New York for at least another year, and is currently editing one film and applying for funding to shoot another about hospice patients.

"I like to write, to take photos, and to film," she says. She has a corner in her room for short story ideas, and another corner for film ideas. "If I have an interest in something, I pay attention to the fact that my eye is going in that direction. I don't know what I'll find but I follow it."