Tuesday, January 6, 2009
Hampshire College welcomed the public to Academics, Activism, Art, and Ascendancy: Women of Color Who Change the World, a lecture and panels series February 5 and 6, featuring distinguished alumnae.

The program celebrated Florence Ladd, who has provided leadership and service to Hampshire College and to higher education within the Commonwealth of Massachusetts and beyond.

Dr. Ladd's relationship with Hampshire College began in fall 1988 when her son, Michael Ladd—now an internationally known poet and performance artist—entered as a first-year student. Since her son's graduation, she has served four terms on the college's board of trustees, and was the first woman and second African American to chair the board. She also chaired the presidential search committee that recommended Hampshire's fifth and current president, Ralph Hexter.

Florence Ladd will conclude her service as a college trustee at the close of the current academic year, and her fellow trustees and college staff organized the program in her honor. All events were held in the main lecture hall of Franklin Patterson Hall.

On Thursday, February 5, at 4 p.m., physician and medical historian Vanessa Northington Gamble 70F delivered the inaugural Trustees' Lecture, based on her current research and titled "Can a Colored Woman be a Physician?": Discovering African-American Women Physicians in the History of Medicine.

Dr. Gamble is University Professor of Medical Humanities and a professor of history at George Washington University. She is an influential spokesperson for equal access to quality medical care for all Americans, and in 1997 served as chair of the Legacy Committee of the Tuskegee Syphilis Study, which prompted a U.S. Presidential apology for the treatment of African American patients. A 1974 graduate of Hampshire College, Gamble wrote her senior thesis (Div III) on the Tuskegee Syphilis Study.

On Friday, February 6, two panels took place in the afternoon. Academics and Activism: Women of Color who Change the World was held at 3 p.m. Panelists were Erin Dozier 88F, associate general counsel of the National Association of Broadcasters; Mary James 72F, professor of physics at Reed College; and Ada Gay Griffin 75F, filmmaker and fundraiser. Alumni trustee Shelley Johnson Carey 72F and faculty trustee Professor Falguni A. Sheth moderated.

A second panel, Art and Ascendancy: Readings and Reflections, began at 5 p.m. Panelists included Nancy Festinger 72F, chief interpreter, U.S. District Court, Southern District of New York, and editor of Proteus, the newsletter of the National Association of Judiciary Interpreters and Translators; video artist, writer, and storyteller Pak Soo Na 01F; and Sara Littlecrow-Russell 96F, poet and author of The Secret Power of Naming. Cynthia H. Tolentino 88F, professor of English at the University of Oregon, served as moderator.

A reception followed in the college gallery, with an exhibition of works by Hampshire faculty, staff, students, and alumni of color.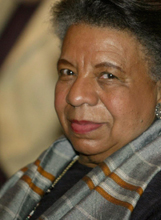 Florence Ladd:
Florence Ladd, of Cambridge, Massachusetts, holds a B.S. in psychology from Howard University and a Ph.D. in social psychology from the University of Rochester. She has been a faculty member at Simmons College, the Harvard Graduate School of Education, and the Harvard Graduate School of Design. She has held senior administrative positions at MIT and Wellesley College, and she has been both a Bunting Fellow and director of the Bunting Institute.
She has worked on behalf of numerous causes and organizations, including the Institute of International Education South African Education Program, and Oxfam America, where she served as liaison to the United Nations. Her public service is wide-ranging: in addition to serving on Hampshire's board of trustees, Ladd has served as a trustee at Bentley College and the Institute of Contemporary Art and overseer at Boston's Museum of Fine Art.
Her essays appear in many books, and her novel
Sarah's Psalm
(1996) is an eminently thoughtful coming-of-age narrative.  Most recently, her writing takes place in two very different genres:
Is That Your Child?: Mothers Talk about Rearing Biracial Children
(2008), co-written with Marion Kilson, speaks to her own experience as a mother but also to those of a heterogeneous set of mothers of different generations and socioeconomic circumstances. A second novel-in-manuscript tells the story of another young woman who leaves one country to find her identity in another.