Monday, February 2, 2009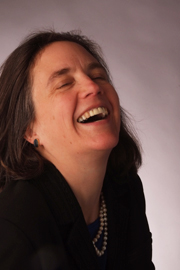 Alumna Ellen Sturgis 77F believes that world change starts with local change. She has spent her career strengthening small communities in eastern Massachusetts through her work with nonprofits and small businesses. Now, as a candidate for state representative for the Third District of Massachusetts, she seeks an opportunity to take the next step in community building.

While in college at Hampshire, she got involved with politics at the grassroots level and worked in the college co-op. She has since worked with a variety of organizations—from food co-ops to environmental groups to community groups—and completed an MBA at Boston College.

After graduate school, Sturgis worked in banking, but decided that she wasn't happy working in an organization where decision making was dozens of floors and corporate levels above her, so she took her new skills back to small organizations in her local community. "The exciting part about community is that you know that you have the ability to change where you live," she says. "This is definitely a seed from Hampshire—if you create a community that is different, then you can make it what you want."

Sturgis is currently executive director of the Framingham Center League, and in a year there has doubled the grants received.

When the state representative for the Third District announced her retirement early this year, Sturgis, who calls herself an independent Democrat, decided to pursue the office.

Sturgis has served on a local school committee during difficult years when a school was in danger of being taken over by the state due to poor management. She worked with others to improve the school's situation, and in doing so learned about state finances, which has given her a goal to achieve if she becomes a state representative: to bring money back to small communities in eastern Massachusetts.

"My short-term goal is to get more funding for public schools—a lot of communities are in a pretty dire situation right now," Sturgis says. The towns she would represent if elected—Bolton, Hudson, Maynard, and Stow—"do an awful lot without much money," she says.

Sturgis believes that "if you change your one community, it's significant because everyone who has been part of that community will take it with them when they go elsewhere. I firmly believe that is how world change happens."