Tuesday, April 28, 2009
Five Colleges, Inc., Selects DePauw Executive Vice President as Next Leader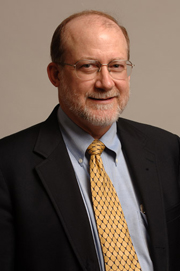 The board of directors of Five Colleges, Inc., has appointed Dr. Neal Abraham as the new executive director of the organization, one of the oldest and most successful higher education consortia in the country. Dr. Abraham is the executive vice president, vice president for academic affairs, dean of faculty and professor of physics and astronomy at DePauw University in Greencastle, Indiana. He began at Five Colleges in August, 2009, succeeding Dr. Lorna Peterson, who is retiring after serving as executive director for the past 19 years.

"We are pleased that a leader of Neal Abraham's vision and considerable experience will be leading our consortium at a time when collaboration holds unprecedented potential for the strategic development of higher education," said Carol T. Christ, president of Smith College and president of the board of directors of Five Colleges, which encompasses Amherst, Hampshire, Mount Holyoke and Smith colleges and the University of Massachusetts Amherst. "I speak for the presidents of all the colleges and the chancellor of the University of Massachusetts in saying how much we look forward to working with Neal on taking forward the groundbreaking work of Five Colleges, which has set a standard of innovation since its inception more than forty years ago."

A summa cum laude graduate of Dickinson College in Carlisle, Pennsylvania, Dr. Abraham (pronounced "Abrum") received his Ph.D. in physics from Bryn Mawr College, where he taught for 18 years as the Rachel C. Hale Professor in Science and Mathematics and professor of physics. Prior to teaching at Bryn Mawr he taught at both Dickinson College and Swarthmore College. As a physicist, Dr. Abraham is an international leader in the field of chaos and nonlinear dynamics, particularly in lasers and nonlinear optical systems. With research support from Research Corporation, the National Science Foundation and the Scientific Affairs Programme of NATO, he has published more than 200 scientific articles, many co-authored with undergraduate research collaborators. 

As a senior administrator Dr. Abraham continues to publish and speak widely on science education, faculty development programs, and access for women in higher education.  He has held visiting faculty or research scholar appointments in universities in Italy, Spain, France, Belgium, Russia, China, and Germany.  His honors from professional societies include election as Fellow in the Optical Society of America, the American Physical Society, and the American Association for the Advancement of Science.  Earlier in his physics career he visited Amherst College as a lecturer and chaired departmental review committees at both Smith College and Mount Holyoke College.

In his 11 years in DePauw's senior administration, Dr. Abraham hired more than half of the university's 228 faculty members, designed a comprehensive faculty development and recognition program, oversaw expansion of DePauw's interdisciplinary programs, recruited a diverse faculty, nurtured collaborations with nearby Wabash College, and shepherded $100 million in the renovation and construction of academic buildings. He has also been a leader in consortial endeavors, since working early in his tenure at Bryn Mawr with colleagues at Haverford and Swarthmore colleges. 

Since coming to DePauw Dr. Abraham has served on both the Dean's Council and the Governing Board of the Great Lakes Colleges Association, and he has provided leadership for the Midwest Information Technology Consortium; the Consortium for Faculty Diversity (46 liberal arts colleges) and three liberal arts college consortia funded for faculty career enhancement projects. He also served in founding leadership roles for such national organizations as Project Kaleidoscope, The National Conferences on Undergraduate Research, the Council on Undergraduate Research and the National Research Council's Committee on Undergraduate Science Education. Long devoted to improving the local community, particularly public education, he was honored for his civic work in Greencastle in April 2008 as the NAACP chapter's Citizen of the Year.

"Neal's energy and dedication to DePauw and its educational mission have been an instrumental part in bringing this college to increasing national prominence in recent years," said DePauw President Brian W. Casey. DePauw is ranked in the top 50 liberal arts colleges in the country by U.S. News and World Report.

Amherst College President Anthony Marx, who headed the national search, sees this succession as a transition from one strong leader to another. "We owe a tremendous debt of gratitude to Lorna Peterson, who over the past two decades has transformed the Five Colleges into one of the nation's leading higher education consortia," he said. "Neal Abraham brings a wealth of experience as an educator and administrator to build on the consortium's many strengths and help our institutions collaborate even more productively in coming years." 

"I am thrilled to be joining the community to work for, and with, five outstanding institutions," said Dr. Abraham.  "The schools of the Five College consortium have long been models for those of us at other colleges and universities, and for me in particular, as we explore how to achieve closer and mutually supportive collaborations.  Particularly in such challenging economic times as those we now face, which make it more difficult for each individual institution to offer the breadth and depth of programs to which each aspires, thoughtful collaboration offers efficiencies in operations and opportunities in academic, cultural and social programs.  Their proximity and decades-long history of cooperation position the five schools rather uniquely to weather the economic downturn. I look forward to providing leadership in the search for and implementation of effective expansions in the collaborative endeavors of the Five Colleges." 

Neal was joined in moving to the Pioneer Valley by his wife Donna Wiley, who holds a Ph.D. from Bryn Mawr College in Art History and who is senior vice president and managing director of Grenzebach Glier and Associates, and their four cats, ages four to ten.

Based in Amherst, Massachusetts, Five Colleges, Inc., is a nonprofit educational consortium created in 1965 to advance the extensive educational and cultural objectives of its member institutions: Amherst, Hampshire, Mount Holyoke and Smith colleges and the University of Massachusetts Amherst.