Tuesday, May 19, 2009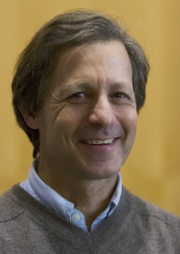 Alan Goodman, professor of biological anthropology, was appointed interim vice president for academic affairs and dean of faculty, effective July 1, President Ralph Hexter has announced.

Professor Goodman has been a member of the Hampshire College faculty since 1985 and is a former dean of the School of Natural Science.

Goodman has strong ties across the Five College consortium: He helped develop the innovative Culture, Health and Science Program, which awards an undergraduate certificate, and he is on the graduate faculty in anthropology at the University of Massachusetts Amherst. He earned his Ph.D., master's and bachelor's degrees from the university.

Goodman is immediate past president of the American Anthropological Association, the world's largest professional organization of anthropologists. He played a key role in development and design of the association's public education project "RACE: Are We So Different?".

An internationally recognized expert, Goodman teaches and writes on the health and nutritional consequences of political-economic processes such as poverty, inequality, and racism. He is an associate director of the New York African Burial Ground Project and works on dietary and nutritional changes globally and especially in Mexico.

Goodman assumes leadership of academic affairs at an important time in Hampshire's history, as the college prepares to celebrate its 40th anniversary during 2010 and is involved in a community-wide strategic planning process focused on continuing innovation.