Thursday, May 21, 2009
Hampshire College invited the public to a special screening of the film 40 Years of Silence: An Indonesian Tragedy on Monday, April 27, 2009 at 4 p.m. in Franklin Patterson Hall (Main Lecture Hall). Admission was free.

The film was directed and produced by documentary filmmaker and psychological anthropologist Robert Lemelson 79F, a Hampshire College alumnus, and edited by two-time Academy Award winner Pietro Scalia (JFK and Black Hawk Down).
Filmmaker Lemelson will attend the screening and be available for a question-and-answer session with the audience immediately after.
The event is sponsored by the Foundation for Psychocultural Research-Hampshire College Program in Culture, Brain, and Development.
40 Years of Silence: An Indonesian Tragedy
is a powerful feature-length documentary that deals with how children cope with and come to terms with severe trauma caused by the death, imprisonment, and disappearance of close family members. It focuses primarily on the long-lasting, multi-generational consequences of psychological, physical, and socio-cultural trauma.
Told in the context of one of the largest unknown mass-killings of the 20th century — the secret and systematic murders of an estimated 500,000 to one million Indonesians in 1965 when General Suharto's New Order regime began a bloody purge of suspected "communists" throughout the country —
40 Years of Silence: An Indonesian Tragedy
represents more than a tragic story of a genocide and its victims.  
The story is told through the compelling testimonies of four individuals and their families, all breaking their silence publicly for the first time. Each provides an intimate and frightening look at what it was like to experience and survive Suharto's mass-killings. Central to the film's message of childhood trauma and its effects is Budi, a young boy from Java who is beaten and harassed by local villagers because of his father's status as a former political prisoner under Suharto's rule. Fearful for his life, Budi's parents decide to place him in an orphanage to remove him from his destructive social milieu.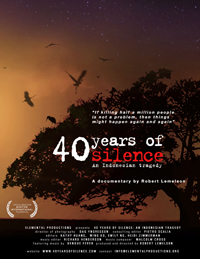 On a broader, more universal scale, the documentary provides insight on how to recognize clearly and treat effectively severe childhood trauma, which can only be accomplished by comprehending a society's history, culture, contexts, and meanings of how its people are affected by violence, fear, and loss. In doing so, those who experience or work in societies experiencing extreme political or military unrest can best deal with the long lasting, and often overlooked, consequences such turmoil has on children.
The documentary proves especially timely as President Obama, who arrived in Jakarta with his mother only a few years after the mass killings took place, has vowed to be a compassionate world leader who responds forcefully to all genocides.
For more information, please contact Paula Harmon at 413.559.5501 or
pharmon@hampshire.edu
.
Film trailer and information
The Culture, Brain, and Development (CBD) program at Hampshire College is supported by the Foundation for Psychocultural Research (FPR). Based in Pacific Palisades, California, FPR supports programs and scholarly efforts that provide models of integrative culture and neuroscientific research.
FPR
CBD fosters innovative teaching and research into questions about the relationships between culture, environment, biology, and brain/mind that reach across traditional disciplinary boundaries.
CBD program