Tuesday, June 2, 2009
Robert Rivest 87F makes a living being playful - performing over 200 shows a year, he synthesizes mime, dance, tai chi, yoga, and meditation into shows and workshops customized for everyone from grade schoolers to business people.

"For 15 years I did purely theatrical mime work," he says. "I knew that art itself was educational, but schools wanted to know how it could be used in the class room." Rivest began including literacy, science, health, and stress management themes in his repertoire, broadening the appeal to educators. "I love homework assignments and I love it when a school calls and says our theme is this, can you create something for it?"

This work is similar to conducting a symphony, he says. "For me, [it's like] being a conductor of laughter - I'm working with the audience to bring them up from little giggles to bursting laughter."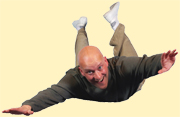 He also does stress-management workshops at companies and teaches at yoga centers: "I show [people] different ways to deal with stress through meditation and mindful 'tai chi-like' movements."

Rivest met French mime master Marcel Marceau after a show at UMass, and ended up training at Marceau's International School for Mime in Paris France. "I studied eight hours a day, learning to be like clay so that I could become anything, a cloud in the sky, a fish on the ocean, a man on the moon," he says. Along with this, he also did extensive work in dance and tai chi.

In the 1980s, Rivest traveled around Europe - from Amsterdam to East Berlin - doing street performances. As a mime, he says, "I have something pretty magical because I don't have to have props or a set. It's something I can do right now on the spot and entertain a group of people for 45 minutes."

He put himself through Hampshire working as a mime and, although he had originally planned to go into physical therapy, his wife Amelia encouraged him to continue pursuing his love of performance. Nowadays he applies the knowledge he gained from his courses in education and child psychology at Hampshire to his current work.

In the future, Rivest plans to turn his focus to public speaking on health, stress management, and comedy, but for now he is happy with his work - and his twin daughters get front row seats everyday with his performances for them over the dinner table and at story time: "Sharing is a huge part of this to me. I get energy from connecting with people."

Robert Rivest Web Site