Friday, June 19, 2009
You know that your professor is awesome when you're in the final round of the famous Dublin Literary Pub Crawl, tied with a woman from Texas on the last question, and he magically appears beside you when he had been 15 feet away and whispers to you the correct answer to, "Of these Irish writers, who is the only Nobel Prize winner to have also won an Oscar?"

I would have said "Yeats," leading to a loss of first place and the sad revelation that I was ignorant of Irish culture (other tourists were already eyeing me askance for not drinking). Instead, I yelled out "Shaw," for the writer George Bernard Shaw, and took home a t-shirt, thanks to the help of Professor of Humanities Bob Meagher.

All this brings me around to the one of the best things about short-term field studies: you don't have to know about a place before you go. In fact, knowing you don't know is key to learning as much as you can.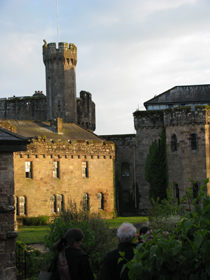 Every May just after commencement, the Global Education Office offers three or four two-week courses led by faculty. This was the second year Professor Meagher (Bob) took a group to pre-Celtic, Celtic, and Christian sites in Ireland to explore the ways these spiritualities flow into one another. Our group consisted of eight students and two alumni, Page Allen 70F and Director of Spiritual Life Liza Neal 91F.

We spent our first week at Glenstal Abby, a Benedictine monastery in the southwestern County Limerick. Each day featured lectures on history and spirituality from one of the brothers of the monastery, who taught us that Irish Catholicism has been heavily influenced by Celtic beliefs and rituals, which in turn borrowed from pre-Celtic practices.

"I'm glad I got to hear the stories from people who feel connected to them, instead of just reading them from a book," said Allie McCormack, a junior and one of two Smith College students on the trip.

Father Seán Ó Duinn, who with his shock of long white hair that regularly fell across his face looked like a druid himself, told us stories about the goddesses of ancient Ireland and the mythical people of the hills. Father Colman introduced us to illuminated manuscripts and the rare books in the abbey's collection, where they had one of Winston Churchill's signed autobiographies and a delicate, palm-sized 15th century prayer book.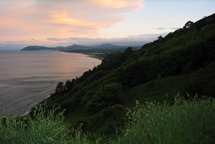 Hannah Gais 07F told me that "getting to experience monastic life gave me greater insight into myself," a point echoed by other students on the trip. As sad as we were to say goodbye to the monks, by the second week we were excited to see Dublin, and we spent our first evening in true Irish fashion: a literary pub crawl in which two actors and a musician introduced us to famous Irish writers and their old haunts.

During the days that followed, Bob took us to Trinity College—where he had been a visiting professor for two years—to see the Book of Kells, an exquisite illuminated manuscript from the 8th century, the National Museum of Archeology with its shriveled third century BCE bog bodies, and many other places around the city.

On day trips, we visited incredible megalithic burial sites at the well-known Newgrange and the little-known but no less impressive Carrowkeel, among others, and medieval monasteries at Clonmacnoise and Glendalough. As I stood at these sites, I was connected with humans from millennia ago and humbled by what they had left behind. And I wondered, what will my community create for our descendents to find?

At each place we would crowd around Bob, a gifted storyteller, as he talked about history or mythology or Irish culture. "Every teacher ought to take the Hippocratic Oath," he told me on the last day. We were talking about what makes a good teacher, and he said, "I try to first do no harm."

Writer's note: I would not have been able to go on this trip without the financial assistance provided by the Global Education Office, and a grant from the Foundation for Psychocultural Research—Hampshire College Program in Culture, Brain, and Development. Thank you!