Wednesday, August 26, 2009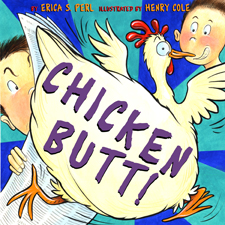 With her latest book, Chicken Butt!, there is no question that children's author Erica Perl 86F knows how to make children laugh out loud.

Chicken Butt!, illustrated by Henry Cole, is the story of a favorite childhood pastime: a joke repeated over and over again much to the child's delight and the parent's consternation. "I wanted to write a story about a joke that works on two levels, for children and adults," she says.

As a parent, she wanted to "capture that all-too-familiar moment when a child's gleeful exuberance reaches the limit of parental patience, and keeps right on going."

Inspiration for Chicken Butt!, Perl's third picture book, came from picture day at school. One of her children was having her photo taken, and Perl watched the photographer interact with the children. "He was making butt jokes to get the kids to smile," she says, "and they were eating out of his hand."

Perl says that connecting to children and finding out what makes them tick is foremost on her mind, and her vibrant books tap into what young children want to read and talk about.

"Part of it is that I still have a juvenile sense of humor," she says with a laugh. "I also spend a lot of time with kids, reading my books at schools, paying attention to where they laugh and what they're interested in."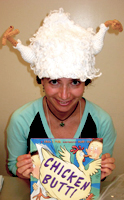 Humor is a feature of both Perl's conversational style and her writing, and this fall she'll speak at a national teachers' conference with Hampshire alumnus David Gavril 90F, an illustrator, on using humorous books to encourage creative writing with young children.

For several years Perl's writing was a hobby, something she did on the side while she worked as a public defender for the Legal Aid Society. She'd become interested in law in college because she did not want to live the classic "isolated and solitary life" of a writer.

Perl made the switch to writing when she discovered how to meld her social life with her inner, creative life through reading and speaking at conferences, bookstores, and in classrooms. Practicing law, she says, wasn't too much different from writing, as both rely on storytelling. "I do like humor, though," says Perl, "and you can't be all that funny as a lawyer. I mean, you can, but it's not always such a great idea."

She also uses her knowledge of writing and publishing as a director at First Book, a nonprofit that provides new books to organizations serving low-income children. She lives with her husband, architect and fellow Hampshire alum Michael Sewell 84F, and two children, in Washington, D.C.

Perl's first novel, Vintage Veronica, about a teenage girl working in a vintage clothing store, is due out next spring from Random House. Her next picture book, Dotty, the story of a little girl whose imaginary friend won't go away, will follow in the fall of 2010 from Abrams. 

She says that it is nice to finally pull the many layers of her past together in the work she now does. "When I was a child, I loved how certain books completely connected with exactly who I was at the time I discovered them," says Perl. "My goal is to write books that will make those kinds of connections, whether they are with little kids, big kids, teens, parents, teachers, or librarians. I aspire to be that kind of a bridge builder for now, and if I ever grow up."

Erica S. Perl's website is www.ericaperl.com.