Thursday, October 14, 2010
Hampshire College and the National Yiddish Book Center announce a new offering for visiting undergraduate students: a semester of study in Amherst from January through May, 2011.

Visiting students will spend the spring 2011 semester studying Yiddish language at the National Yiddish Book Center and enrolling in courses in Jewish Studies or related subjects at one or more of the schools in the Five College consortium: Hampshire, Amherst, Mount Holyoke, Smith, or the University of Massachusetts. Students will also work hands-on with new and ongoing projects at the Book Center in the areas of bibliography, exhibitions, ethnography, oral history, and modern Jewish music.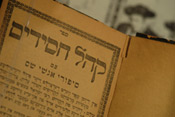 Participants in the Hampshire College - National Yiddish Book Center Semester in Modern Jewish Culture will enroll as visiting students at Hampshire College. The Book Center will provide a gathering space and activities, including a weekly seminar, lectures, films, and performances. All academic credit will be awarded through Hampshire College.

Applications will be considered from undergraduate students with interests in Jewish Studies in their sophomore, junior, or senior year. Prior knowledge of Hebrew or Yiddish is helpful but not required.

For further information visit the Book Center's website: www.yiddishbookcenter.org/semester
Apply online through Hampshire College