Monday, October 26, 2009
Frisbees, bicycles, and paper cranes were the order of the day on October 24 as the Five College area participated in the International Day of Climate Action.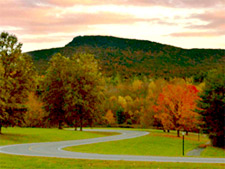 Hampshire College hosted a teach-in and tea party, What We Need to Know About Climate Change: Local Perspectives on the Global Crisis, at 4 p.m. in the East Lecture Hall of Franklin Patterson Hall.
The discussion featured Betsy Hartmann, professor of development studies, Michael Klare, director of the Five College Program in Peace and World Security Studies, and Susan Tracy, professor of history and American studies.

This and other Five College events, organized by 350.org, are meant to draw attention to the need for an international climate treaty in advance of the international climate conference in Copenhagen in December.

The term "350" refers to the highest level of parts per million of carbon dioxide that many scientists believe can be in the atmosphere before a destructive level of global warming occurs. The Earth passed the 350 mark in 1985, and is now at about 385 ppm.