Wednesday, October 28, 2009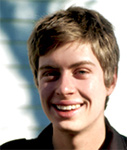 As I lift the bulky bail of hay, I place it strategically on the metal rail so as not to let it fall back. A classmate grabs the stack by its wrapped strings, and everyone releases a sigh of relief as the job is finally over.

We have been working at the Hampshire Farm Center all morning, transporting a massive amount of hay from a trailer to a high loft in one of the barns.

"I feel so accomplished," I say before looking down at the loose bits of straw covering my clothes, reminding me of a scarecrow.

Later, we will walk to another barn house, cut the stems from freshly pulled garlic bulbs, and peel off the outer layers covered in dirt. I will be amazed at how I've never done this before, how relaxing it actually is, and most importantly, how purposeful.

The work that students do at the Farm Center, often as part of their work-study programs, directly affects the Hampshire—as well as the surrounding—community. The vegetables that students pick, gather, and wash end up in dining commons meals—on your plate. You can also buy a food share; for a fee, you can get fresh vegetables weekly. "I cut that lettuce yesterday," my friend Jenny says as I take a bite of my salad from the dining commons.

Even though I have found another work-study position, I am thinking of using my free time to volunteer at the farm. What may sound like boring, hard labor can actually be a wonderful feeling of usefulness, a feeling of connection to the harvest. "You're not one of those 'vegetables grow in supermarkets' kind of Texans, are you?" another first-year student asks me. And I laugh because, until this moment, I was.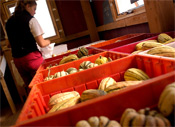 The Farm Center is not just a wonderful example of Hampshire students being invested in their campus and sustainable farming, but it also illustrates the wide range of work-study positions available to students, including first years.
When speaking to a friend at another college, she expressed exasperation: "I wash dishes, for three hours. That's all first years are offered." Not the case at Hampshire. On my first day of Orientation, I called five offices inquiring about student work. From farm work to proofreading, to aiding the media department, nothing was off limits to me, and I felt an immediate sense of belonging.
It was not upper-division versus the "freshman." Instead, I was asked: "What are your skills?" "What do you do, and how do you do it?"

Perhaps what my experiences with work study and my knowledge of the Farm Center really equate to is an overall transparency in how Hampshire operates. Students are not tally marks; they do work and often make decisions that affect the entire College community.