Tuesday, November 10, 2009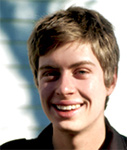 If someone walked in on one of my classes, more likely than not they would find about 20 college students not exactly acting their own age.
One, consumed by angst, kicks over a chair and she defies the facilitator in arms-crossed protest. While jumping, crawling, and skipping in a jabberwocky-like activity, I run away from a cooties-infested classmate trying to hold my hand. In another instance, I collapsed in tears when someone said my paper-plate mask was "ugly."

From Dramatic Play to Creative Drama is taught by theater professor Natalie Sowell. Whether students are engrossed in early high school apathy, or in the bliss of high-spirited kindergarten, the course remains scholarly in its pursuit of understanding not only the childhood experience of learning through play, but also how adults can better that experience through the use of drama.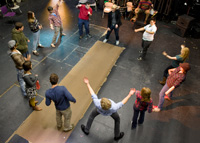 Each student is given the opportunity to facilitate for a short time. They assign the group an age to act, testing out an activity they may use with real kids. Later in the course, we will have the chance to work with children at local schools.

I don't necessarily have a concentrating interest in theater or drama, but am very inspired in the presence of those who understand the childhood experience—and how one can better it.
During the summer, I worked at a downtown arts center where children from different socioeconomic backgrounds spent the day on various art projects. Every day was a new challenge in how to engage certain kids, and how to handle behavioral situations.
My coworker, Shannon, taught me a lot about children, and seemed to have a way about her in which she viewed children as equals, and not as little adults to control as she pleased. She was a drama major in college, and frequently referenced her knowledge of free play and creative drama as solutions to everyday problems.
When I signed up for my Hampshire College classes, Professor Sowell's course description seemed like an answer to many of the questions I had about truly involving children in activities that they can learn from.

"It really is just so much fun," says Natalie. "Our society doesn't allow adults to play enough." As she instructs the class, and observes students facilitating, she enjoys "watching people realize what learning is, for themselves, and for children."
The class is also a lesson in how to utilize the full self in a learning process. "Learning is not all intellect," Natalie says. "When we include out bodies, our emotions, even our spirituality into a process, that's when we truly absorb the material."

This coming Friday, I will have the opportunity to pilot a lesson designed in the course with a group of second graders at Williamsburg Elementary School. Centered on the idea of growth in plants, as well as growth as a human being, they will pantomime a story and act out future careers or goals they may want to achieve.