Tuesday, November 10, 2009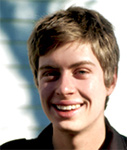 A few nights ago, when I was on an expedition to retrieve a friend's bike, the dark blue light of the mountains near campus glowed under distinct constellations.
"There's not much light pollution around here," my friend Gabi said. "You can really see the stars." In the middle of that conversation, I jumped with excitement and exclaimed "a shooting star!" as one glided across the peaks. I had never seen a shooting star before.

During most of high school, I lived in a downtown neighborhood with easy access to the luxuries of urban living, all within a short bike ride. The feeling of being in the center of the city excited me.
It's no New York City—San Antonio's suburbs are more densely populated than its downtown—but it's still where the hub of arts and culture thrived. When I visited Hampshire in March, I was apprehensive that the grounds might feel isolated from surrounding communities.

The reality is, this statement can be as true—or as positive—as you'd like it to be. If you're drawn to the idea of campus life in which you live and breathe Hampshire, you can do that; countless clubs and activities that take place on campus create a very distinct culture.
As I experience Hampshire more, and subsequently the surrounding countryside, the more I begin to love seeing the stars intensely or feeling like a part of the transitioning seasons.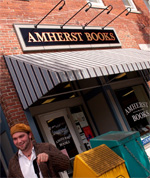 Amherst, a college town that still feels quaint, is about a five-minute bus ride from campus. Numerous coffee shops, affordable restaurants, and used music stores line Amherst's streets, and create a relaxed vibe still rooted in a serious tone of study as Amherst College and the University of Massachusetts also sandwich the city.
If vibrant urban life is more your style, nearby Northampton has a mix of boutique stores and upscale restaurants that exude a sense of cool while still feeling like an organic community.

Proximity to these towns isn't just something that the College boasts about in publications and ads: students take the free bus services to Amherst and Northampton on a regular basis, either for classes on any of the other Five College campuses or for recreation.
There have been weeks in which I've gone to Amherst many times just to change my "atmosphere"—to study at The Black Sheep restaurant or a good local coffee house. And, there have also been weeks when I haven't left the Hampshire campus at all.
I have grown to love the more rural feel of the campus. After being in Boston for just one weekend, I had a moment of contentment as I walked from the bus stop back to my dorm—thinking about my room, and the fact that I missed sleeping in my Hampshire bed.
It's in those times you realize somehow the dorms with hundreds of people, the gazebo you pass by three times a day, and all the crazy happenings of college life are parts that make up the whole—your home, away from home.