Thursday, November 19, 2009
What does it take to become a language learning institution?

Speaking, reading, and writing, yes, are critical. But languages go deeper than the arrangement and pronunciation of words. The cultures, religions, histories, stories, and people that make up the world's nations are as intrinsically bound to language as an alphabet is. 

At Hampshire, that's why a new approach is taking root.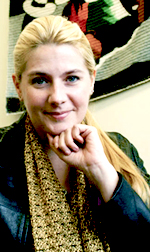 "We're trying to find innovative ways to connect language studies to other disciplines. We want the faculty to inspire the students to understand that language is a vehicle to take them to other places," says Pamela Shea (shown left), director of Hampshire's new World Language Enrichment and Acquisition program.

Shea sees both the challenges and opportunities inherent in the World Language program. As has been the case throughout Hampshire's four-decade history, education is being taken into uncharted territory. Faculty and students will explore together, learning how best to merge anything from the study of Peruvian agriculture to 20th century Islamic history with the languages that can make those studies far more lively and comprehensible.

A grant from the Andrew W. Mellon Foundation to the program will be used in a variety of ways. An important piece of the puzzle is the funding of postdoctoral fellows who will both teach classes with language learning as a central tenet and assist faculty in the addition of language lessons to their courses. For example, George Gathigi, Hampshire's first World Language fellow, will include the study of Swahili in his media arts courses.

"I think he will be a great asset as we establish the program," she says.

Ryan Bongseok Joo, assistant professor of Asian religions, is one of the first recipients of the faculty grants that drive the World Language program. Through funding for research and materials, the grants pave the way for assimilation of language into all of Hampshire's interdisciplinary Schools. Joo used a portion of his grant this summer to visit Seoul, South Korea, where training in Zen Buddhist ritual was followed by study of Chinese philosophers Zhuangzi and Mengzi in their original classical Chinese script.

"Since I was able to witness the ritual in the Buddhist temple, I will be able to talk more fluently on how the language of enlightenment is constructed in my class on Zen Buddhism," he says.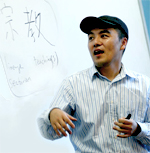 In Joo's class Daoism, Shintoism, and Confucianism: Indigenous Religions of East Asia, the meaning and pronunciation of words from several Asian languages, including the classical Chinese he focused on this summer, will be explored.

"We'll go over how words such as "religion" (zongjiao in Chinese and shukyou in Japanese) were first invented and used. In addition, we'll study 15 Confucian, Daoist and Shinto vocabularies such as 'dao,' 'kami' and 'zen' in Chinese character. Language plays a very important role in this course, and I think this will be a good experience for the students."

Psychonanalysis and clinical psychology professor Annie Rogers is another grant recipient. She plans to purchase two types of language training software for her students, who will use them in the study of French psychoanalyst Jacques Lacan.

"I hope that adding French and taking on an inquiry into the question of translation will allow students to get a much richer sense of the oral nature of Lacan's teaching, and his roots in French language and culture," says Rogers.

One of her past students, Amy Hoffman 05F, now works as the administrative assistant of the World Language program. The recent graduate's final college project was on Lacan, and she sees how the addition of the language component could have enhanced her comprehension.

"A lot of the works I used were in translation, and it was frustrating not to be able to read them in the original languages. This would have really helped me," she says.

Shea hopes to see that sort of deeper inquiry flourish in coming years, and encourages students to explore their growing options through the World Language office and in collaboration with the numerous other language programs at Hampshire and in the Five College consortium.

"There are so many opportunities out there for language studies. We aren't creating something that's already been developed, we're working in liaison with the other colleges in the consortium to provide students and faculty with new tools and resources," she says.

As the World Language program makes its first inroads on campus, Shea has glimpsed just how innovative students, faculty, and staff can be in redefining how language is learned.

World Language Enrichment and Acquisition program >>