Monday, November 23, 2009
"Language does not stand alone. It comes with culture behind it."

An apparently simple statement, but George Gathigi knows well the complexities it suggests. Gathigi is Hampshire's new postdoctoral fellow, arriving on campus this year through the Andrew W. Mellon grant that funds the World Language Enrichment and Acquisition program. His challenge? To become one of several leaders who will be helping to turn Hampshire into a language learning institution, paving the way for the study of language to be incorporated into nearly every discipline across campus.

Gathigi's background gives him a unique insight into the power of language. Born in Kenya, he studied linguistics and political science at the University of Nairobi, worked with a Nairobi-based organization aimed at improving society through the arts, culture, and media, helped develop radio programming for Kenya's's Swahili-speaking population, and worked with the non-profit organization Feed the Children in the largest informal settlement in Africa before coming to Ohio University to complete his masters and doctorate degrees in international affairs and media studies respectively. Learning how to reach out to different populations in ways that best suited all of those varied situations was crucial. It's a hard-earned lesson that he tries to instill with his students today.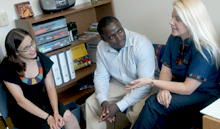 "You have to know who you're dealing with, look at an issue and understand the problems you're facing. In a practical sense, you have to get your message to the level of the people listening to it," he says.

Gathigi welcomes the opportunity of working with Hampshire's students, particularly the interdisciplinary approach they can bring to the classroom.  His first course, "Messaging for Social Change", explores the ways in which media can be creatively used to respond to social problems. As part of the World Language program, he will be incorporating Swahili into the course study, but the creative "languages" students decide upon will be largely up to them.

"I want them to take control of their projects in their areas of interest," he says. "They can use sound or music, if they're artists who like creating comics they can use that medium, if they're trained in video they can capture a scene. It's something I would like to co-investigate with every student."