Tuesday, November 24, 2009
Hampshire College celebrated its own Thanksgiving this year on November 13, with the inaugural Hampshire Scholarship Dinner, in an evening that brought students and donors together for the first time.
"We all know that these economic times have made it more arduous for students to afford and for donors to support higher education," said President Ralph Hexter. "We are grateful and humbled by your support. And so, this is our Thanksgiving."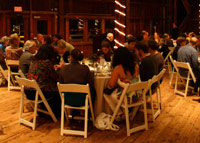 Students receiving financial aid met with donors to share experiences and stories. The evening allowed many students an opportunity to say thank you in a new and personal way and it gave donors the chance to meet the people whose lives they have changed.
Charles Longsworth, one of the authors of The Making of a College and Hampshire's second president, said that supporting students "extends education" beyond college and into the lives of donors.
"We [as donors] contribute to the students' education and in turn they contribute to ours," he said. "I hope the college will continue this and think of new ideas."
During the evening, trustees, presidential cabinet members, and donors mingled with students, some of whom brought pieces of their work to display. Maya Gounard 06F wore a blue fuzzy robot around her neck that she had designed and built for her Division III project. The robot, which responds to touch, was an example of a "comfort creature" she created for people who are unable to have pets of their own.
Leah Mawhinney 06F talked with people at her table about her work on the subject of how agriculture has been industrialized and the globalization of food culture. Across the room, one of Kamil Peters' 07F sculptures greeted people as they entered the Red Barn.
In a brief but eloquent speech, Peters, who works with youth in the community, talked about the difference Hampshire had made in his life.
"Hampshire provided an opportunity to take what I'm interested in and apply that to my work with youth," he said, referring to the Fire Arts Center, which he created to combine his passion for welding, art, and youth action.
The evening put a human face on the financial reality of Hampshire. "When you see the people who are here because of financial aid, and the things they offer the community," said Karen Parker, director of admissions and emcee for the evening, "it makes the financial part so much more important."
"We have all joined and are joined to Hampshire for one reason or another," said trustee Ken Rosenthal. "I give to Hampshire not just for what it is now but for what it will be in the future. Hampshire is a part of us and we are a part of Hampshire, so when we give to Hampshire, we're helping ourselves."