Wednesday, November 25, 2009
Electronics can be temperamental.

When you're in the midst of a delicate project, it's nice to have some experienced friends around who can keep you from accidentally blowing your work to pieces. Maya Gounard 06F has found that to be the case, at least.  Bridging the worlds of computer programming, machine shop fabrication, electronic innovation, and, once the heavy-duty stuff is through, the fine art of sewing is central to her year-long final project. Drawing on the knowledge of students and faculty who specialize in those different fields has sometimes made the difference between success and a heap of dysfunctional, velour-wrapped micro-controllers.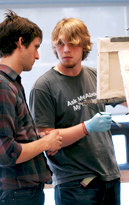 "We help each other out," says Gounard, who in an informal way has built the sort of community that Hampshire's DART program aims at fostering across campus. "When I was away this summer I was missing the community where we could discuss problems."

DART, short for Design, Art, and Technology, is new this year. Funded by a three-year grant, it's an experimental program all about drawing in students from throughout Hampshire's interdisciplinary schools, forging ties that, ideally, will result in the bursts of creativity and exploration that tend to come from knocking around previously unfamiliar ideas, approaches, and influences. Through courses, student project grants, working groups, seminars, exhibitions, and other offerings, the DART program has the potential to be a catalyst both among students and the faculty and staff members they will be working with.

"We don't know what's going to happen, and that's kind of what's so exciting and adventurous about the idea," says Thom Long, Five College assistant professor of architectural studies and member of the DART advisory board (it's true they enjoy calling it the "DART board"). "There really aren't many things to compare it to.  We're looking to MIT's Media Lab and other forward thinking environments to see how we can push ourselves. It's putting money and energy towards getting people together."

Professor of computer science Lee Spector and professor of theatre and dean of the school of interdisciplinary arts Ellen Donkin, are the DART co-directors. Long, professor of art William Brayton, associate professor of sculpture Thom Haxo, Five College assistant professor of art and technology John Slepian, Lemelson Center director Colin Twitchell and director of development Beth Ward make up the DART board membership at the moment, but that group is subject to growth as interest increases. That is highly likely, says Slepian, who believes DART is a needed addition to the campus.

"All of this is going on at Hampshire already with design, art and technology, but here is an opportunity to pull it all together," he says.

Slepian would like to see the DART lounge, located in the Art Barn, turn into a mix of studio, workshop, computer lab, and hang-out spot.

"Projects will be done independently still, but students will be able to see themselves as part of this community, able to talk to one another and have some place to go," he says.
 
He and Long will be running the first DART class this January term, creating a large-scale artwork for exhibition on campus built around their experience and the interdisciplinary talents of their students. DART program director Carla Costa expects this work will be something of a calling card, encouraging even more students to get involved.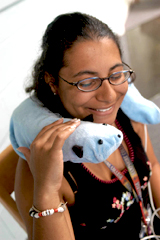 "We want everyone to contribute what they know," she says. "This can bridge disciplines together, dovetailing projects and getting students together who otherwise wouldn't necessarily have a platform to communicate."

Gounard likes that idea. For her final project, she built interactive robotic animals called "Comfort Creatures", which can be used in places like senior housing, dorms, or hospitals where live animals aren't allowed.

"The idea is for them to be therapeutic tools. They're for people who need companionship, who feel lonely or stressed. They're not replacements, they don't react in complex ways like animals, but they can be alternatives. Each responds differently. One, for instance, is meant to be on a flat surface, around your shoulders or on your lap, and reacts to touch with head and tail movements," she says.

 By calling on her friends and acquaintances, whether it was at the Lemelson Center machine shop or in the computer labs at Adele Simmons Hall, she was able to navigate the numerous fields that made her robots work. A summer spent working at the University of Minnesota through the Research Experience for Undergraduates program allowed for similar brainstorming, but the deep connections she had made at Hampshire were hard to replace. That's why she feels DART will serve a good purpose.

"I think a lot can be done that isn't being explored right now. You can get a sense of what's going on and interact with a lot of students," she says.

That's exactly what Long hopes will happen. He expects DART will spur innovation, leading to everything from great artwork to new inventions accidentally discovered in the course of laid back conversations in the DART lounge.

"Hampshire has the potential to be at the forefront of this type of development," he says. "I've got a feeling it's going to be phenomenal."