Wednesday, December 2, 2009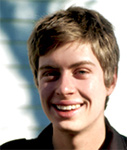 As I sank slowly into the chest-board of the massage chair, my masseuse's hands dug awkwardly through my starchy button-down shirt—something I felt like apologizing for.
Even with the poor choice of clothing for the occasion, having the tension rubbed out of my shoulders and upper back from all the hours of hunching over printouts and computer screens was a joy.
After I was instructed to drink a cup of water, I walked my way back to my dorm with a strange new feeling—I felt gravity pulling at my shoulders, my arms felt heavy, and my back was upright and in a new form.
I was walking, almost strutting, with the aftereffects of a free chair massage offered at the Community Health Collaborative.

Hampshire's Community Health Collaborative is a somewhat informal hub of mental and physical health on campus, the more formal one being Health Services, where one can get vaccines, psychology appointments, and even acupuncture.

The chair massages are always free, and depending on your health insurance, there's a pretty good chance your Health Services appointments will be as well. Both centers are great resources for students, and their presence highlights the fact that the College is intent on having students are not only physically healthy, but also students who are happy and having the best experience possible.
Especially for first-year students, who are most likely to be stressed over not having all the comforts of home yet, the free (or very reduced cost) psychology appointments are wonderful services.
In my experience, possibly because we're all in the same situation, it's not something to be embarrassed about—most of my friends have gone to have someone they can just talk to about their new experiences and understandings in this new place and phase of their lives.
Health Services also gives out light-boxes during winter, and even hosts students to use bathtubs, from those suffering from "tub-withdrawal."