Thursday, December 10, 2009
Simply Waffles featured by the Chronicle of Higher Education >>
In the face of national uncertainty, Hampshire student Stephen Akbeg 08S has risen to the challenge and is combating America's daunting waffle shortage.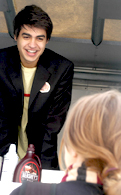 Admittedly, that is not precisely what he set out to do over a year ago when he began working on a business plan for Simply Waffles, but he laughs about the timing of the current frozen waffle crisis and the rising popularity of the fresh Belgian waffles he serves out of his renovated waffle van.

Akbeg gets commissions on campus from groups planning events, but local organizations also seem to love Simply Waffles. After speaking at an entrepreneurship conference in nearby Springfield in November, he was booked by an area hospital to serve waffles as a treat for employees and patients, and by a bank in West Springfield to serve waffles to patrons.

During his first semester at Hampshire, Akbeg, who was born in Missouri but raised in Belgium from the age of two, brought Liege waffles from home and his friends couldn't get enough of them. So he thought to himself, why not recreate a piece of that culture on campus?

"In Belgium, you see waffle vans everywhere," says Akbeg, who orders frozen dough from Belgium. "Waffles are part of the culture, they have a wonderful smell, and they taste delicious—everyone loves these waffles."

Over the past year, he has worked closely with Hampshire faculty, students, and staff on developing his business, applying for the necessary permits and certifications, and remodeling the inside of a mail truck to turn it into a waffle kitchen on wheels. Much of the waffle truck's stainless steel interior was designed and built in the Lemelson Center, a program at Hampshire College for student innovators and inventors, which has a full fabrication shop. Akbeg also received a young entrepreneurs grant from the Harold Grinspoon Foundation to help launch his business.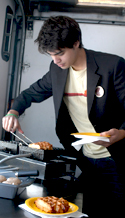 "I've learned that the more you talk about your ideas, the more people are there for you. If you give your time for them, they'll be more than willing to help you," says Akbeg.

Colin Twitchell 79F, director of the Lemelson Center, says that Akbeg, who studies film and photography, has a good business sense. He points out that Akbeg has integrated "establishing a business into his academic work here at Hampshire, doing a couple of independent studies around creating his own business."

Akbeg is already thinking of ways to give back. Twitchell is working on creation of a social invention fund that would give grants to Hampshire students for their social change/entrepreneurial projects, and Akbeg has said that for every 1,000 waffles he sells he will donate money to the fund.