Thursday, January 14, 2010
Bamyan Media, a project started by Hampshire alumni Anna Elliot 04S and Jasmine Stine 04S, is harnessing the popularity of reality TV to promote small businesses and social entrepreneurship in the developing world.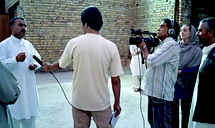 "Almost every country has their version of a 'Pop Idol' contest," says Elliot. "What if a reality TV series made heroes out of ordinary citizens who are starting sustainable businesses to lift their communities out of poverty?"

This idea has already been tried and tested: as part of her Div III, Elliot developed and co-produced the 13 part reality-TV show "Fekr Wa Talash," or "Dream and Achieve," in Afghanistan where it became the #1 TV series of the season.

In the show, contestants competed weekly before the show's expert judges, testing their business acumen and market readiness. Each episode had its own theme, like management, sustainability, or accounting, among others, and viewers voted via text messaging for the contestants they liked. Seven million Afghan viewers watched the finale.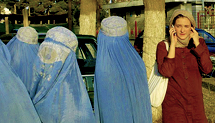 The show modeled how ordinary people could create positive change within their communities through social entrepreneurship. The hardest part for would-be entrepreneurs, Elliot and Stine say, is getting business training and financial backing to make their good ideas a reality.

"When people have the information, resources, and skills they need to build their own businesses," says Elliot, "they become much less reliant on donors, NGOs, and the government."

"Bamyan Media is designed to take this reality-TV project to scale and bring it to other countries," says Stine. Elliot and Stine founded Bamyan Media with another colleague in October 2009. Their current focus is deciding where to take the show and how to finance it.

Both say that their intention is to use reality TV as a tool for social change in impoverished areas. The goal is to work closely with local people, modifying the project in each new location so that it can serve communities in ways that matter most within their culture.

 "This kind of work is about using the idea of 'crowdsourcing' to promote appropriate solutions from within the community," says Stine, who did her Div III on community archiving. "It's an incredible way to rebuild economies from the bottom up."

This spring, Stine will represent Bamyan Media on The Fellowship Finalist Marketplace for the 2010 Unreasonable Institute. Elliot is a finalist for an Echoing Green Fellowship.