Tuesday, January 19, 2010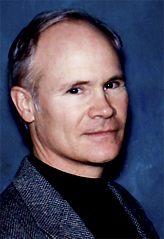 The differences between West Point and Hampshire College? There are a few. But Nate Zinsser 74F knows that his studies at Hampshire were essential to his work as head of the famed military academy's sports psychology program.

"At Hampshire I was involved in climbing and karate training, and I was looking at the psychology of being very good at those activities," he says. "I don't think I would have been able to study the psychology of success anywhere else. There was not much in terms of research to review. It didn't really exist back at that time. "

The relative infancy of the sports psychology field didn't deter Zinsser's enthusiasm. A mix of academic research and practical challenges, like being part of the second group ever to ascend the south face route to the summit of Moose's Tooth in the Alaska Range with fellow Hampshire student Jon Krakauer 71F and Thomas Davies from nearby Marlboro College, allowed him both to develop theories and then test them in real-life situations.  Hampshire martial arts instructor Marion Taylor was another strong influence.

"The martial arts component of Hampshire's athletics program was hugely important. The purpose of the training is not just physical intimidation. It's about getting through mental blocks. It begins with a state of mind," says Zinsser. "Hampshire was instrumental in giving me the flexibility and very gentle guidance to go find this."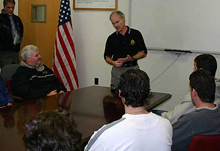 After Hampshire, he earned his doctorate at the University of Virginia, studying under sports psychology pioneer Bob Rotella.  In 1992, West Point was searching for a sports psychologist to teach its Army cadets about mind-body performance. Zinsser was chosen, and began a now nearly two-decade tenure at the school with an academic curriculum compared to MIT's but with the addition of a few extra challenges—close-quarter combat, for instance.

"The West Point experience is definitely strenuous. My focus is directing a program that is available to all 4,200 cadets," says Zinsser.

Whether it's an NCAA Division I athlete looking for a competitive edge or a cadet struggling with academics (or, outside of West Point, high-level performers and teams including the New York Giants and Philadelphia Flyers), Zinsser and his staff rely on training in the same "mental toolkit" to help them solve their problems. Over the years the Army has dramatically expanded the program. Zinssler's curriculum is now taught in nine Army satellite training centers across the country. Since the wars in Iraq and Afghanistan began, wounded soldiers have become another priority.
 
"We teach them the same skills, goal setting, practical optimism, stress management, guided imagery for healing and recovery," he says.

It's another example of how far sports psychology has progressed since Zinsser's Hampshire days. "The actual program and curriculum and teaching points haven't changed much over the years," he says. "What has changed is the level of public acceptance. There is more acceptance now of applied sports psychology as a valuable discipline."