Friday, January 29, 2010
TES (The Empathetic Space) was an interactive installation created by a Jan term 2010 class and utilizing an uncharted combination of design and production techniques to alter users' everyday interactions with space.

The installation was on view to the public daily throughout February 2010.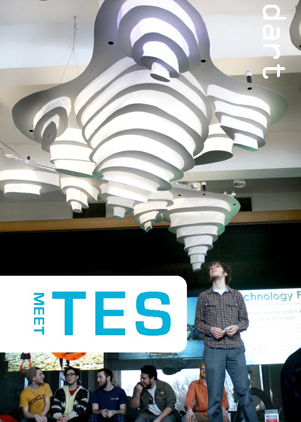 Situated at the heart of the Hampshire campus—the Harold F. Johnson Library—TES's lantern-like structures reflected the topographical forms of the adjacent Holyoke Range, while its electronically animated behavior mimiced the actual complexity of existing movement paths within the space.

The result was an interactive architecture that engaged, challenged, and inspired viewers in re-imagining a familiar environment through a visual and environmental intervention that was beautiful, functional, organic, and responsive.

TES was the creation of the three-week January term course, The Empathetic Space, offered through Hampshire's new Design, Art, and Technology program.

Architecture professor Thom Long and art and technology professor John Slepian, their teaching assistants and Div III students (seniors) Lindsey French and Rachel Schapira, and the 11 students enrolled in The Empathetic Space course designed, built, and installed the project. Student designers and builders included Whitney Brooks, Zach Clemente, Virginia Lunt, Brian Martin, Marcel McVay, Mike Meo, Joe Oakley, Clay Royse, Arielle Soutar, Audrey Weber, and Ben Yellin.