Monday, February 1, 2010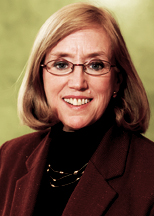 At the President's Cancer Panel in October 2009, businesswoman and CEO Barri Blauvelt 70F presented one potential model for controlling the increase of cancer in the United States.

The presentation was based on extensive research done by Blauvelt in collaboration with researchers at the University of Massachusetts Amherst and Johns Hopkins University in over 30 countries across Asia, Latin America, the Middle East, and Africa. Using breast cancer as an example, their research showed ethnic disparities in the prevention and treatment of cancer worldwide.

"Our work is considered profound by most who have learned about it," says Blauvelt. "What is really important for the U.S. and [the President's Cancer] Panel is the recognition that there are learnings from outside of the country, particularly in the countries of ethnic origins to diverse populations in America. We need to understand these when we consider healthcare policy and strategies that embrace America's diverse ethnicities." 

Most cancer research is done on limited, often white, populations that do not necessarily apply to people with different ethnic backgrounds. Blauvelt says we need to consider ethnicity: lifestyles, diets, genetics, culture, communication, and local environments, among other factors.

A major problem is that little funding goes to the places it's needed most. An issue Blauvelt addressed in her presentation was that only five percent of resources for researching cancer go to the developing world, while two-thirds of new cancer cases are from low- and middle-income countries.

The model Blauvelt helped develop calls for more research funding, removing barriers to cancer screenings and access to care, ensuring there are experienced medical personnel for both research and disease management, and supporting ethnically diverse patient advocacy. By implementing this model, America would also be learning from other countries, and stronger for it.

Blauvelt, who is not a scientist, says she sees herself as a "neutral negotiator. I'm good at achieving consensus among very diverse opinions and experiences and also 'seeing what others may not see' because of the global breadth and depth of my interactions with medical, policy, and consumer health communities."

In 1983, Blauvelt started Innovara, a global healthcare business and management leadership development firm. It has since grown to be a worldwide leader in medical-thought leadership development and healthcare industry personnel development with operations in 17 countries.

Blauvelt says she hopes within the next few years, in collaboration with the Institute for Global Health at University of Massachusetts Amherst, to create a sustainable, international research fund to "partner and address unmet needs in basic and epidemiology research related to ethnicities of cancer."