Monday, February 15, 2010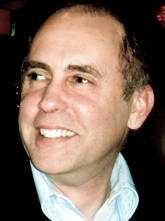 "You start with one interesting thing."

For Victor Fresco 76F, that's the building block of just about every television show he has worked on. As executive producer of the critically acclaimed ABC half-hour comedy "Better Off Ted," he knows that it's the ideas—even more than the jokes—that determine the success or failure of a project.

That approach has roots in Fresco's Hampshire education: "Hampshire teaches you to ask questions, and think of bigger concepts. I tell writers who are coming up that it's not just about being funny, they should have something to say," he says.

This deeper common denominator runs through Fresco's career, from creating "Andy Richter Controls the Universe" to writing episodes of "My Name is Earl." For "Better Off Ted," he focused on the differences between the moral values families would want their children to learn and what can be the reality of life in some corporate settings.

"Parents want their kids to share, to be good citizens, to be kind, but then go into a corporate workplace where the exact opposite values are rewarded; where people who are cunning, manipulative, even ruthless are rewarded. That kernel of an idea expanded into a workplace comedy and the premise of 'Better Off Ted,'" says Fresco of the theoretical basis of Veridian Dynamics, the fictional corporate setting of the show, and main characters Ted Crisp (played by Jay Harrington) and his daughter Rose (Isabella Acres).

A Los Angeles native, Fresco made films all through high school, and focused on political science and documentary filmmaking at Hampshire. After graduation he began to explore creative writing, getting his start working in television commercials before eventually selling a script and moving into half-hour comedy.

"Hampshire is actually good training for television. Working with teachers on Divisional projects teaches you to be thoughtful and to communicate your ideas. It also forces you to figure things out on your own, something writers must do every day, and to be collaborative," says Fresco.

After more than two decades in the television business, the collaboration that goes into making a show keeps things fresh. As executive producer he leads a team of writers, and is also deeply involved in all areas of production ("In TV, the writer is still in charge," he notes). Fresco is now in the midst of developing new pilots.

 "I write shows that I want to watch, then hope that they get on the air. I've always had personal themes in the shows I'm most proud of," he says.