Tuesday, February 16, 2010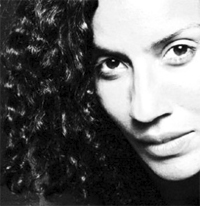 Poet and author Aracelis Girmay is Hampshire's 2010 writer-in-residence and will be on campus from February 28 to March 3.

As part of her residency, she will be featured in two major events, both free and open to the public:

She will give a poetry reading on Monday, March 1, at 4:30 p.m., in the Dakin House living room, with a reception and book signing to follow.

She will conduct an informal Q-&-A with students and faculty on Wednesday, March 3, at 4 p.m., at the Hampshire College LeBron-Wiggins-Pran Cultural Center.

The inheritor of Eritrean, Puerto Rican, and African-American traditions, Girmay writes poetry, essays, and fiction. She is the author of Teeth, a collection of poems published by Curbstone Press in 2007, which won the Great Lakes Colleges Association New Writers Award and was nominated for a Connecticut Book Award. Her collage-based picture book, Changing, Changing: Story and Collages, was published by George Braziller in 2005.

A recipient of fellowships from the Watson and Jerome Foundations, Girmay is a Cave Canem Fellow and serves on the board of the Acentos Foundation.

Originally from southern California, Girmay lives in Brooklyn and teaches community writing workshops there and in the Bronx. She also teaches in Drew University's low residency MFA Program and at Queens College.

In September 2010, Aracelis Girmay will assume her duties as a full-time professor of poetry writing at Hampshire College.