Tuesday, February 23, 2010
Eric Peterson and Lydia Harrington (shown below) presented papers drawn from their Hampshire Division III (senior thesis) research at the New England Society of Architectural Historians' 2010 Annual Student Conference. The symposium, held at MIT on February 20, included four undergraduate and five doctoral-student presenters.

Peterson's academic work concentrates on urban studies and architecture, particularly race and space, and capital and space. His Div III study of the city of Los Angeles explores the relationship of theory to place. His faculty committee is architectural history professor Karen Koehler (chair) and Myrna Breitbart, professor of geography and urban studies.

The paper Peterson presented at MIT, "Planning the Technologized Urban Body: Richard Neutra and Post-War Housing in Los Angeles," contrasts the current chaotic landscape of Los Angeles with earlier visions anticipating the "rational city" of the future. He analyzed modernist architect Richard Neutra's plan for Los Angeles and its failure at the hands of forces shaping the city's development.

Peterson is from Milford, Connecticut. His Div III research is supported by a grant from Hampshire's Design, Art, and Technology (DART) program.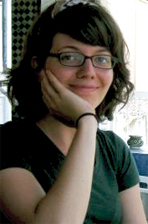 Harrington's academic work is in Middle Eastern studies, concentrating on history and art and on architectural history. She has completed field study in Istanbul on gender, religion, and politics in contemporary Turkey and has studied advanced Arabic in Morocco. In November 2009, Hampshire awarded her a social science thesis grant to attend the Middle East Studies Association's annual meeting in Boston.

For her Div III thesis, Harrington is researching the role of nationalist ideology in the city planning and monuments of Ankara in the Early Turkish Republic. Her faculty committee is chaired by politics professor Sayres Rudy and architectural historian Koehler. Other committee members are Amherst College history and Asian languages professor Monica Ringer and University of Massachusetts Amherst art history professor Walter Denny.

Harrington's presentation at MIT was titled "Imagining National Identity and History in the Anitkabir of Early Republican Ankara, Turkey." She analyzed the role of the official nationalist ideology of Mustafa Kemal Atatürk's government in the planning and building of the city of Ankara in the 1920s through 1950s. Through analysis of selected sites, she argued that although the new political elites of the Early Republic tried to distance themselves and their nation from the Ottoman past through modernizing reforms and creation of a new capital, these changes were continuations of secularizing, Westernizing projects started in the 19th century by Ottoman rulers.

Harrington is from Mountain Home, Arkansas. Following further Arabic study next year in Oman or Syria, along with site visits to Ankara, Turkey, she plans to attend graduate school in Middle Eastern history or Islamic art and architecture.