Friday, February 26, 2010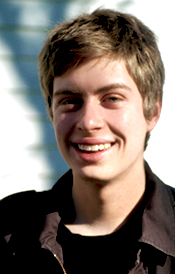 "I was really inspired by the idea of alternative mapping, and how we could apply that to the Hampshire campus," says Matthew Gonzalez, a first-year student who is using his research project from last semester as a tool to continue to learn about and improve the campus. Inspired by an in-class prompt about mapping a space by functionality, and how students actually use space, Gonzalez began to wonder if the layout of the Hampshire campus was affecting the first-year experience. What he found intrigued him.

He used a series of questions, such as "Where do you feel uncomfortable?" or "Where can you socialize with the older students on campus?" to gather information on the first-year experience. As more students contributed their input, the answers became color-coordinated dots spread out over a campus map to define space outside of architectural boundaries.

As we discussed his process, I noticed the yellow dots, signaling less comfort within a space, dominated the apartment-style mods, where most of the older students live. "I found that the first-year experience really begins and revolves around the quads," Gonzalez said.

Gonzalez wants to continue his research, "I would ask different questions, maybe more in-depth ones where people can explain why they feel a certain way." As an employee in the admissions office, in charge of multicultural student visits, he wants to utilize his findings to create a better sense of the Hampshire experience for visiting students. "Tours are great, but they don't really tell you about what its really like to be a student here," Gonzalez added. "I want to understand what the real first-year experience is all about, collectively, to give visiting students a better understanding."

On-campus students can contribute to Gonzalez's research: mg09@hampshire.edu.