Wednesday, March 17, 2010
When student Benjamin Oyama 09F described Hampshire as "the type of place I could study the influence of the ukulele on the Jewish diaspora"  in the winter issue of the College's magazine, Non Satis Scire, (page 6) it struck a chord with Jim Beloff 73F (aka "Jumpin' Jim").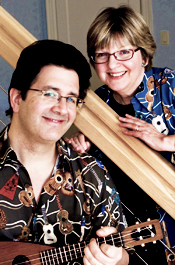 Although Beloff studied neither the ukulele nor the Jewish diaspora while at Hampshire, he does describe himself as "someone who, inspired by his Hampshire education, boldly claimed in 1992 that an overlooked, musical instrument could come back and be 'cool' again." That instrument is, of course, the ukulele, and Beloff has done plenty to prove his claim. Over the last 18 years, he and his wife, Mount Holyoke alumna Liz ("Leapin' Liz") Maihock Beloff, have created Flea Market Music, a company devoted to the ukulele, reviving it and beyond.
   
While at Hampshire, Beloff concentrated in musical theatre. In his third year, he interned with Leonard Bernstein and Alan.J. Lerner on 1600 Pennsylvania Avenue, a musical famous for closing after only seven performances. Beloff considers it a valuable experience. "It was a great opportunity to see how two musical theater titans could stumble so badly," he says.
   
After graduation, Beloff went straight to New York, where he wrote a number of produced musicals for children. From there he made a leap to magazines, eventually becoming an associate publisher of the music trade magazine Billboard, and moved to California to head the Los Angeles office.
   
It was in L.A. that Beloff met and fell in love with the ukulele. He and his wife, who became "big flea market nuts" while living in New York, began regularly going to the Pasadena Rose Bowl Flea Market. "I found a Martin tenor ukulele lying on a blanket, and on a whim bought it. Within a few weeks I was completely smitten with it," Beloff recalls. "I didn't understand why everyone wasn't playing a uke."
   
He did a little research to find out why not, and discovered that the guitar had killed the ukulele. "It was about as out as an instrument could be," Beloff says. "There were no materials on the market for ukuleles; it was dead."
   
To bring it back to life, Beloff compiled a book of thirty classic ukulele songs, Jumpin' Jim's Ukulele Favorites, in 1992. "It did better than anyone thought," he says. He and his wife compiled a few more, arranging songs from genres that had never included ukuleles, like blues, classical, and '60s rock. "We decided, 'what the heck, we'll go into this full time,'" Beloff says. "In 1998 we both quit our real jobs."

However, in 1998 there were very few good ukuleles. "No one was making a good affordable one," Beloff says. "Your best bet was to go to a flea market and buy an old 'Martin'."

So, Beloff suggested to his engineer brother-in-law, Dale Webb, that he try his hand at making a better ukulele. The result was the Fluke, a non-traditionally shaped ukulele with a molded back, the prototypes of which were made using a toaster oven. In 1999, the Webbs started The Magic Fluke Company in the "great tropical state of Connecticut," and have manufactured and sold nearly 40,000 Flukes and smaller models called Fleas.

Meanwhile, nearly two-dozen songbooks have been published under the Jumpin' Jim's brand name, with sales of 400,000 copies. Beloff also wrote The Ukulele: A Visual History, published in 1997. It continues to be the only book that covers the history, culture, players and manufacturers of the instrument.

"The ukulele, it turns out, is a very social musical instrument," Beloff says. "and it makes people smile."

The Beloffs will publish Bluegrass Ukulele, the first book of its kind in May. In October they will release The Daily Ukulele, the biggest ukulele songbook ever. As it's name implies, it will feature 365 great songs with easy arrangements.