Monday, March 22, 2010
Three Division III (senior) students at Hampshire College have been awarded 2010 Earl Ubell Grants to support academic projects that make scientific findings accessible to nonscientists:

Lydia Mills is completing a project in the history of science, but in a manner designed to be pertinent to contemporary global health issues. Mills plans to create a museum exhibit-style installation to educate her audience about global tuberculosis today by analyzing the social determinants, and the decline, of tuberculosis in New York City at the turn of the 20th century. Relaying through images, objects, and texts how living conditions for the poor in the late 1800s into the early 1900s contributed to the spread of TB, she will draw parallels to similar infrastructure and economic problems in less wealthy countries today, so that we can use historical information to determine our actions. On her faculty committee are history and American studies Professor Susan Tracy and public health Professor Elizabeth Conlisk. Mills is from Annandale, VA.

Phillip Lorenz is completing a project focused on mead production and analysis. Working with his Division III faculty committee, environmental microbiologist Professor Jason Tor and cell biologist Professor Christopher Jarvis, Lorenz will lead workshops on campus. He will also write articles on the project and submit them for publication. His goal is to make scientific processes, including the biochemistry and microbiology of mead production, accessible to a wide audience, both on and off campus. Lorenz is from Corvallis, OR.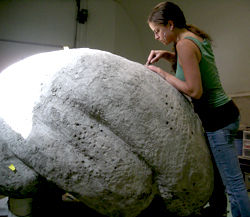 For her Division III, Julia Buntaine is merging neuroscience with sculpture. She makes art based on neurobiological forms, such as brains, cells, and neurons. Her work, entitled "NeuroSculpture," will be presented at an art exhibit in May. As a Hampshire student she has studied and completed work in both neuroscience/biology and sculpture, building a strong academic and artistic foundation for her thesis project. On Buntaine's faculty committee are studio arts technician and instructor Gregory Kline and developmental cognitive neuroscience Professor Jane Couperus. She is from Sherborn, MA. More on this project

The Earl Ubell Grant program recognizes and supports exceptional student work that in some way seeks to make the scientific method accessible to nonscientists. The grants are named for Earl Ubell, whose distinguished career has influenced generations of American science writers.

Ubell began his career at the New York Herald Tribune as a messenger and rose to science editor, a position he held from 1953 to 1966 before transferring to the then-new medium of television. He was health science editor for WCBS-TV from 1966 to 1972, and from 1978 to 1995. He served as the news director for WNBC-TV News from 1972 to 1976.

Ubell covered such notable events as the first Sputnik flight in 1961 and the first U.S. manned space flight in 1962. He carried out scientific research at major laboratories, and was the author of eight books (one co-authored). His numerous awards for journalism, medical reporting and science writing include an Emmy in 1970 for the New York area of the National Academy of Television Arts and Sciences and the Donald Salmon Award for significant contribution to development of the arts in that same year. Ubell died in 2007 at age 80.

Hampshire College alumnus, and the son of Earl Ubell, Michael C. Ubell 70F established the grant program in honor of his father. This is the fourth year of Ubell Awards.