Thursday, April 1, 2010
Epee. Saber. Foil. Or, as they jokingly refer to it in lighter moments, "the most refined way to hit your friends with a stick."

Hampshire's fencing club recently competed in the 2010 New England Collegiate Club Fencing Championships in Durham, New Hampshire, proving that their knowledge of the sport has progressed impressively since many of them first picked up the three weapons of fencing as college students.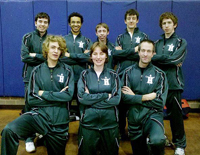 "It was pretty intense, one of the most challenging events we've been to," says Christopher Thomas 07F, one of the student "signers" who registered fencing as an official club through Hampshire's student activities program and who are working to promote its growth on campus.

The Hampshire fencers largely held their own against a deep field of opponents. While none medaled in Durham, they have gotten numerous medals in other United States Fencing Association events.

Thomas and cosigner Scott Barish 08F give credit for the bulk of the club's success and improvement to their coach, alumnus Scott Tundermann 92F, who also learned to fence at Hampshire.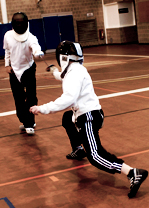 "We have a great coach. As someone who has only been fencing for three years, learning from him, I'm able to fence on par with or better than people [who have been fencing] for six years or more," says Thomas of Tundermann, who also coaches the Smith and Mt. Holyoke College fencing teams.

Fencing may not be a pastime all of them considered when starting at Hampshire, but for the dedicated coed group that makes up the College's club, it quickly became a passion. Barish says the team spends upwards of two hours, three days a week, at practices, and each year they compete in three to four tournaments.

Coach Tundermann says it's a pleasure to be back at his alma mater teaching a new group of students the skills he first learned two decades ago: "The nice thing about the club is that we can have both serious competitors and recreational fencers, so it really works for anyone who wants to check it out."

Students interested in learning more about the fencing club can simply show up at practice Tuesday through Thursday between 6 and 8 p.m. in the Robert Crown Center auditorium.