Friday, April 2, 2010
Filmmaker and actress Lupita Nyong'o 03F returned to campus in March to screen her documentary, In My Genes (2009), and Shuga (2009), an MTV/UNICEF drama in which she starred.

Nyong'o, who is currently enrolled in the M.F.A. in acting program at the Yale School of Drama, was born in Mexico to Kenyan parents, and grew up in Kenya.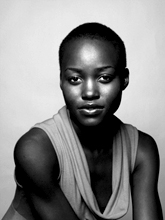 While a student at Hampshire, Nyong'o worked as a production assistant on The Constant Gardener (2005), as a post-production intern on The Namesake (2006), and an art intern on Where God Left His Shoes (2007).

After graduating from Hampshire, she returned to Nairobi in August 2008 to produce the music video for the song Little Things We Do, by Kenyan musician Wahu and Ugandan musician Bobi Wine. It won Best Video at the 2009 MTV Africa Music Awards.

In My Genes, which was Nyong'o's Division III (senior) project, was selected as the opening event of the 2010 touring New York African Film Festival hosted by Smith College, and was screened both at Hampshire and Five College neighbor Smith College. The documentary follows Agnes, a Kenyan woman with albinism overcoming her society's discrimination against her condition.

Nyong'o writes that the film "asks us to consider how it feels to be a member of one of the most hyper-visible and yet effectively invisible groups of people in a predominantly black society."

To make In My Genes, Nyong'o returned to Kenya for eight months of researching, filming, and production. The support of her Division III committee, film/video production Professor Baba Hillman and theatre Professor Natalie Sowell, was extremely important during this time. "Div III was a time of self-reflection and self-doubt, as it is for many," says Nyong'o, "and having a committee chair like Baba and committee member like Natalie, who both had the utmost confidence in my abilities, kept me going at many stages of the experience."

In My Genes won first prize at the 2008 Five College Film Festival, was screened at Lincoln Center, and has received North American distribution with Third World Newsreel.

Nyong'o more recently starred as "Ayira" in the 2009 Kenyan MTV drama Shuga, part of a UNICEF campaign to raise awareness of HIV/AIDS within Kenya and other developing countries. The three-part series follows a group of young middle- and upper-middle class Kenyans as they navigate the challenges of relationships and careers. The characters learn to make responsible decisions, and discover that HIV is not a "death sentence." Nyong'o says the show raises the issue of HIV/AIDS, "but in a cool, realistic way, to young people in Kenya."

"The previous 'generation' of AIDS awareness campaigns were these older people shouting at you, 'AIDS kills!' and 'get tested!' and that's true, but coolness and accessibility just haven't been there," she says. Shuga is a step forward, she continues, because "it's the young people that you see on screen, giving you that message."

Shuga's realism is particularly important for getting the message across. The characters are not archetypal "good" or "bad" people who always make "good" or "bad" decisions. "They all come across as human beings," says Nyong'o, "And I think that helps."

The actors also felt the reality of the story and its message. Nyong'o recalls an important scene where a group of the characters get tested for HIV at a voluntary counseling and testing center. "Even when they shot, it felt so real," she says with visible awe.

"We realized on that day that this is something real," she continues. "And we're going to be ambassadors for responsible sexual behavior." The cast made a pact, Nyong'o recalls, and were tested for HIV together.