Thursday, April 29, 2010
Helping Students Find Their Authentic Voice

At the Actors Studio Drama School, Djola Branner learned authenticity. Of his first acting teacher, a Barbadian woman named Barbara Poitier - a distant cousin of Sidney Poitier - Branner says, "she rode me like a two dollar mule.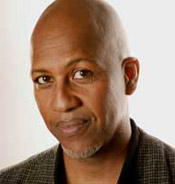 " 'Djola', she would say, 'Your work is too presentational.' Translation? My work was not authentic. My life as a poet had required me to pay attention to rhythm and syntax, but not to 'living truthfully in imaginary circumstances.' "

His breakthrough moment came while performing a monologue from Tony Kushner's Angels in America. "All of a sudden I started bawling like a baby," he recalls. "Everyone else in the classroom was applauding, and Barbara was on her feet. 'Yes, Djola! That's it!' "

As assistant professor of theatre at Hampshire, Branner helps others come to their own breakthroughs. "My goal in the classroom is always to facilitate the discovery and expression of each student-artist's authentic voice," he says, "Whether I'm teaching acting, directing, or playwriting."

Branner was born and raised in South Central L.A. He lived, performed, and taught dance, acting, and dramatic writing all over the country "before finding my place in the Happy Valley," he says.

Like his path to the "Happy Valley" - more widely known as the Pioneer Valley - Branner describes his path to theater making as "circuitous." He received his B.A. from the University of California at Santa Cruz, his M.A. from San Francisco State University, and his M.F.A. from The New School for Drama. "I was a poet, and then a dancer/choreographer, and then a performance artist," he says. "And that doesn't even include my work in the sciences."

His acting career began when, as a dancer/choreographer, he co-founded the theater troupe Pomo Afro Homos in 1990. He calls the experience "my trial by fire."

"That work allowed me to dramatize my own experience, and to train as an actor, director, and playwright. We toured the country - and Canada and the U.K. - for four years, and at the end of that time I realized I had become a theatre artist."

But, Branner adds, "though I had some brilliant performances, once in a while, I was never able to repeat them." He entered the Actors Studio Drama School (now the New School for Drama), which he says, "allowed me to 'repeat' my brilliance. Who knew?"

This semester at Hampshire he is teaching the course Out of Character: Writing and Performing the Monologue. Students write and perform their own monologues, paying attention to the way they sound, and the way different perspectives and emotional states change a story. They also explore gender, class, and culture, rhythm, syntax, and breath. "I want students to leave with enough information and confidence to tell their own stories," he says.

"The great thing about teaching at Hampshire is that we get to design new courses that excite us.

"Theatre allowed me to find my own voice as an artist, to tell stories that I wasn't seeing on stage, stories that reflected my experience as a gay man of African descent, stories that placed women, people of color and working class folks at the center," Branner says.

He is also currently teaching Hip Hop Theatre, with University of Massachusetts dramaturgy lecturer Priscilla Page, at UMass Amherst. "This course excites me. It's part dramatic lit, part sociology, part anthropology," he says.

Branner has published poetry and dramatic writing in a number of anthologies, including Voices Rising, Colored Contradictions, and Staging Gay Lives. A collection of his plays, oranges and honey, will be published in late 2010.