Friday, April 30, 2010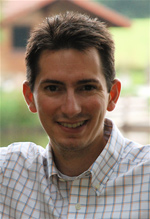 At age 13, Lionel Claris 00F came across the writings of 1984 U.N. Peace Medal recipient J. Krishnamurti and was deeply drawn to the latter's questioning of established knowledge. At 16, Claris left his home in France and enrolled at Brockwood Park School, an international high school in England founded by Krishnamurti.

Claris later applied to and was accepted by a couple of eminent universities in England, before choosing to attend Hampshire College, from which he graduated in 2004.

Why Hampshire?
"When I tell people, they are usually curious as to why I chose to study in Amherst, Massachusetts, rather than, say, in Exeter or Oxford," Claris says. "The answer is simple: it's a matter of exploration vs. focalization. Process vs. result. Question vs. follow. In the end, it's a question of how much self-reflection is encouraged and allowed."

At Hampshire, he took a course taught by Professor of Physics Herbert Bernstein called New Ways of Knowing, in which students read Michel Foucault's The Order of Things: An Archeology of the Human Sciences. Foucault's ideas about power, knowledge, and resistance also inspired Claris.

The French native points out the irony: "I did not find out even of the existence of French thinkers like Foucault and Derrida until I came to Hampshire.

"I remember being told in my first or second semester, by a professor, that I was a typical French intellectual . . . and I remember thinking: 'what is a French intellectual?' I honestly had no idea, and the label made me feel somewhat uncomfortable. Still, it made me curious to find out more about what a French intellectual might be."

Double Div IIIs
His investigation led him to a Division III proposal that his committee said was too massive for just one project. While talking with then-President Gregory S. Prince about the Re-Radicalization of Hampshire movement, of which Claris was a founder, the conversation turned to the Div III. "Why don't you just write two?" Prince asked.

With Prince as co-chair of his second committee, Claris completed both theses, becoming one of a handful of Hampshire students to complete two Div IIIs.

He went on to earn a master's degree in education at nearby Smith College in 2005. His master's thesis, Being & Relation: Deconstructing Constructivism (Sketch of a Relationalist View of Education), was presented at the New England Philosophy of Education Society.

Work in Education
In his last semester at Smith, Claris answered a job ad by Associate Professor of Engineering Donna Riley for the implementation of liberative pedagogies - that is, questioning the authority of established knowledge - in engineering.

Professor Riley and Claris developed practices to encourage critical understanding, and incorporate feminism and ethics, in engineering courses at Smith. They found that many students resisted. "In our effort not simply to educate those who got the point of the liberative pedagogies, we started to think seriously about the meaning of such resistance and wondered whether it could be tapped and made into something constructive," Claris says.

The result was an article titled, "From Persistence to Resistance: Pedagogies of Liberation for Inclusive Science and Engineering," published in the International Journal of Gender, Science and Technology. It draws on cognitive development and Foucault's theory of resistance, as well as preexisting works of liberative pedagogy.

In 2006, Claris became a teacher and standardized testing coordinator at Rebecca Johnson Elementary School, in Springfield, MA. "I made it part of my job description to make sure that our students had the best and fairest testing conditions, even as I remained critical of the validity of such high-stakes standardized tests," he says. As a teacher, he encouraged confidence in his students and ownership of their education.

Publications in Progress
Currently, Claris is working with Professor Riley on two more articles, one about redefining "critical thinking," and the other about "encountering the feminist thinker Luce Irigaray in engineering," he says. He is also translating a never-published Foucault interview, hoping to turn it into a book.

Claris has returned to France, following the unfortunate denial of a recent green card application, and plans to pursue a doctorate in continental philosophy at the European Graduate School in Switzerland.

"I must re-invent myself," he says of being back in Europe after an entire decade, "which I want to make into an exciting challenge!"