Monday, May 3, 2010
Action Athena »

"I've been doing comics for a long time," says Athena Currier 06F. "Finding a way to [incorporate] that into my academic work at Hampshire has been great." Her Division III project, a comics magazine called Burn Book, is a critique on the social norms of everyday life and the labels often attributed to social groups.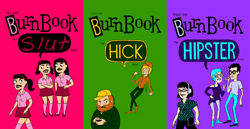 Throughout her final year at Hampshire, Currier made four complimentary issues of the magazine, addressing the stereotypes of slut, hick, hipster, and geek.
"I think labels are like politics, but on a personal level," Currier adds.
"Examining how you see yourself and the group you see yourself fitting into are important aspects of my project."

On the back cover of each issue, Currier included her portrait, fully outfitted in the particular stereotype she is analyzing.

Collaborative Project
For the Slut issue, Currier asked for stories from friends, and from the general public over the Internet, about the term, and how it has been attributed to them. "I took their words, and built comics around them."

The Hick issue included many family stories collected orally, while other forms of collaboration took on more professional rote: "I would sometimes record the interview or take notes." Still, one can find many hilarious and informal conversations in Currier's comics—ones that she might have overheard at The Bridge Café or in the quads.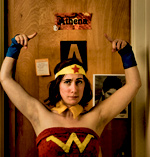 Currier can relate this process to a concept she learned in a first-year film tutorial. "There's a style of documentary filmmaking called the reflexive mode, which is a way of putting yourself in the process of the documentary."
In the same way, Currier sees herself as a journalist, yet one who's also part of the story.

Academic Culmination
Despite not being a reflection of all the courses Currier has taken, Burn Book is the culmination of many ideas she learned at Hampshire.
"I've learned more about gender politics and race politics here than anywhere else even though that's not part of my concentration," she says.

Currier plans on saving up for graduate school in illustration by working at a local coffee shop in her Minnesota hometown.

Div III Faculty Committee:
Writing professor Nell Arnold (chair) and communications professor James Miller.