Thursday, May 13, 2010
Hampshire College has received LEED Gold certification for the Ken Burns Wing of the Jerome Liebling Center for Film, Photography, and Video.

The LEED (Leadership in Energy and Environmental Design) Green Building Rating System, overseen by the U.S. Green Building Council, is internationally recognized as one of the highest ratings for sustainable building construction.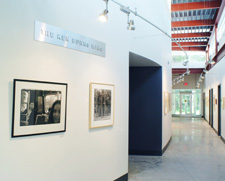 The 6,700-square-foot Ken Burns Wing was formally opened for fall semester 2009. It is Hampshire's first LEED Gold certified building.

"This is an important moment," said President Ralph J. Hexter, in making the announcement. "Hampshire recognizes global warming as one of the defining challenges of our time, and we have pledged ourselves institutionally to a commitment toward climate neutrality and reduction of carbon emissions.

"How fitting that Hampshire's first LEED Gold certification should be for a facility that bears the name of Ken Burns, who most recently brought us the acclaimed documentary on the National Parks and preservation of America's great natural resources. And that it is for a building that honors Jerry Liebling, distinguished emeritus professor, and houses a program that thrust Hampshire into international prominence early in its existence—just as we are celebrating Hampshire's fortieth anniversary.

"We are grateful for the efforts of so many people who worked on and contributed generously to this project, with particular congratulations to the faculty, students, and staff who work in the Liebling Center, and who give it such meaningful life and reason for being," said President Hexter.

Carl Weber of Strategic Building Solutions was the project manager, and Chris Riddle of Kuhn Riddle Architects was the architect. The construction company was Thayer Street Associates, based in Holyoke.

LEED certification recognizes environmentally conscious building projects by using a specified list of qualifications across categories including sustainable sites, water efficiency, energy and atmosphere, materials and resources, indoor environmental quality, and innovation in design. The Ken Burns Wing accumulated points across these categories, including such features as:
A storm water management system that limits pollutants and employs an underground retention gallery to limit the quantity of storm water runoff through campus drainage systems into surrounding waterways and wetlands.
Reflective roofing and paving materials to avoid overheating near dark and heat-absorbing materials in summertime.
Plumbing fixtures that minimize or avoid the need for potable water.
CO2 monitoring that limits the quantity of outside ventilation air—and the energy needed to condition it—based on the level of human activity in the building at the time.
A 4.6 kilowatt photovoltaic array that provides approximately 12 percent of the annual electricity needs of the building.
More than 50 percent of wood used was harvested from forestry programs certified by the Forest Stewardship Council.
More than 10 percent of all building materials were made from recycled content.
Zero or very low emission of volatile organic compounds (VOC) in carpet, paint, sealants, and adhesives.
A touch-screen interactive energy-monitoring site in a key public location that allows visitors students and faculty to view and understand the flow of energy through the Ken Burns Wing, and provides data for student and faculty research projects.

More information on the Ken Burns Wing and its green features

Video of Liebling Center opening ceremony