Friday, May 14, 2010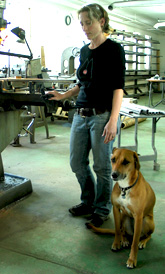 Erica Moody 90F of Magma Metalworks began an apprenticeship at a metalworking shop soon after graduating from Hampshire, eventually opening her own studio on Boston's north shore.

She gets most of her clients through word of mouth, and has managed to build a diverse portfolio ranging from custom butter-dishes to a veterans' memorial sculpture at Northeastern University.

With any new project, she begins with the object's function and efficiency. "It's refreshing to get away from the artistic part of things and more towards the practical side of a craft," says Moody, who considers herself more of a craftsman than an artist. "The part of metalwork that I like best is the mechanics and engineering of something that is going to work well while looking awesome."

She first noticed her interest in the technical aspects of a craft while studying photography at Hampshire, she says. "I wasn't so much into actually taking pictures, but instead getting to know the mechanics of old cameras, and how they produced an image.
"The atmosphere of Hampshire is so encouraging. Seeing all the amazing things people were doing really inspired me to be creative."

Today, when taking on tough conceptual or technical projects, she recalls "the encouragement Hampshire gave me to explore the environments and frontiers that one might not consider exploring."