Friday, May 14, 2010
Hampshire's Community Council held the first of what is planned to be an annual event—a Thank You Brunch—on May 10.
More than 40 community individuals, student groups, and offices were recognized by the student organization, which is comparable to student government associations at other colleges.

The Amherst Fire Department was honored for its constant service to Hampshire College throughout the academic year.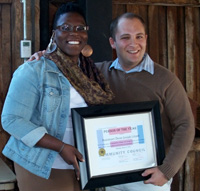 Also honored was Josiah Litant 00F, chosen as Person of the Year. Litant, assistant dean of students for new student programs, has been an active member of Community Council during academic year 2009-2010 and served on many committees.
The students recognized Dean Litant for his strong dedication and unswerving work in seeking and incorporating the student voice.

During the brunch Community Council welcomed its newly-elected chair, Leanna J. Pohevitz 08F.
Award recipients:

Offices and Departments:
Business Office
Campus Leadership & Activities
Disability Support Service
Duplications
Lemelson Center
Media Services
Facilities & Ground
Student Life
Public Safety
Sodexo
The Writing Program

Community Members:
Herb Bernstein
Larry Berger
Lisa Fitzherbert
Iris Garcia
Ellen Gattozzi
Jessica Gifford
Marie Johnson
Cyrée Johnson
Suzanne Karanikis
Kristen Luschen
Mida McKenrick
Liza Neal
Emily Rimmer
Will Ryan
Melissa Scheid-Frantz
Falguni A. Sheth
Ananda Valenzuela
Zilong Wang

Student Groups:
Green House Mod
RAICES
Students for Justice in Palestine
HCEMS
Re-Rad
The Omen

Community:
Amherst Fire Department
Sibie's Pizza

Person of the Year:
Josiah Litant