Friday, May 14, 2010
The World Health Organization estimates that 50 million people each year may be infected with the dengue virus that causes dengue fever, a mosquito-borne illness prevalent in the tropics that causes extreme pain and can potentially lead to hemorrhagic fever.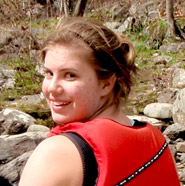 For her Division III, Marissa Baker-Wagner conducted research to identify pathways by which the dengue virus assembles the capsid protein. The ultimate goal is to find medical compounds that can target those pathways instead of targeting the virus directly, stopping the virus while avoiding mutation.

Her work is part of a research project by Prosetta, a biotech lab in her hometown of San Francisco where she began interning the summer after graduation from high school.

Baker-Wagner and Div II student Usha Lingappa, who is working on a similar project involving rabies, proposed an innovative bicoastal Prosetta-Hampshire lab partnership, continuing research begun in San Francisco on campus as part of their academic work. They found an enthusiastic supporter in Hampshire biology professor Lynn Miller.

"At the end of last summer we proposed that we take the work to Hampshire," says Baker-Wagner. "The first day back on campus we ran to Lynn asking 'Can we do this?' We had strong support on both sides to try and establish a lab here."

Both students presented posters at the 23rd annual International Conference on Anti-Viral Research, held in San Francisco in April 2010. They were the only two undergraduates participating in a professional conference of hundreds of representatives of pharmaceutical and biotechnical companies, governmental and academic labs.

The laboratory work was only half of Baker-Wagner's Div III, which also involved critical examination of the economic and social determinants of health. "Dengue is a neglected tropical disease that affects primarily poor people," she says.

Baker-Wagner planned to spend "one more summer in the lab" at Prosetta. She has applied to the Peace Corps, and was nominated for service in Sub-Saharan Africa in fall 2010.
Div III faculty committee: Professor of Biology Lynn Miller, Associate Professor of Public Health Elizabeth Conlisk.