Friday, May 14, 2010
To understand how food flows from farms to people Graham Jeffries 06F looked to water.

Jeffries wanted to know how many people could be fed by local food systems in Massachusetts. To figure it out, he took an innovative approach to visualizing food production and distribution using hydrological models.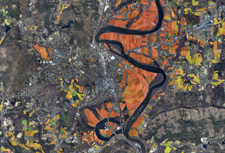 "Rather than seeing how water flows when it rains, I wanted to represent how food flowed from production to consumption," says Jeffries. "Applying hydrology models to food system analysis hasn't been done before."

Jeffries used a geographical information system (GIS) to visualize his findings.
GIS allowed him to "combine different layers of data by stacking them together to study their spatial relationships.

"I was grappling with how to create a reflection of food flow," he says. That led him to create brilliantly detailed maps showing the movement of food from fields to urban areas.

Based on his findings, we could amend the popular slogan "Think Local, Not Global" to "Think Regional, Not Local."

"Div III led me to question many of my assumptions about local and regional food. There's an idea that 'local' is best, but in many cases that's not true for social or ecological reasons," Jeffries says. "It's the actors in the food system that bring the quality of social justice and ecological sustainability to food production and access, not solely spatial features."

His best estimates show that Massachusetts, a state that is a leader in direct farm sales, is only capable of producing 6 percent of its residents' caloric needs in state (or, another way of looking at it is that only 6 percent of the population could be fed entirely on what the state produces).

"We live in a world that globally produces enough calories to feed 12 billion people," he says. "The problem of feeding everyone is as much about distribution as it is production."

Jeffries, who worked with botany professor Lawrence Winship, economics professor Stan Warner, and hydroecology professor Christina Cianfrani, will share his research findings with a number of groups, including the Massachusetts Department of Agriculture and the Northeast Sustainable Agriculture Working Group, among others. He hopes to expand this study and continue working on it in graduate school next year.

Jeffries received grant funding from the Ray and Lorna Coppinger Endowment Grant to design and build the computer for GIS.