Friday, May 21, 2010
"We need to deconstruct the medical concept of 'normal'," asserts Martina Risech 06F. In her Division III (senior) project, Genetic Selection and Reproductive Biotechnology, she discusses the potential of genetically testing fetuses for disorders, and the social dangers of doing so.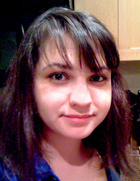 "It's about how genetic selection in terms of diagnosing fetuses should force us to question what we mean by 'normal' and what we mean by 'disabled'," she says.

Risech finds that many people confuse disability and impairment.
She explains that impairment is an inability to perform an action, but disability is a socially-constructed expectation that a person should be able to perform that action. For example, not being able to walk is an impairment, but not a disability if everything is wheelchair-accessible.
A focus on eliminating impairments through genetic testing is problematic, she argues, because it "takes a social problem and makes it biological."

In her Div III abstract, Risech writes, "Instead of encroaching on an individual's right to control their reproduction, there should be a movement to address the current biomedical attitudes that are creating this disparity of disability."
As a second-year student, she learned about the influence of culture on science in the class Culture and Biology, taught by Professor of Biology and Anthropology Alan Goodman. She recalls asking herself, "As a lab student, how do I insert myself, now that I know that it's not just the production of objective knowledge?"

She later took Rethinking the Population Problem, co-taught by Professor of Developmental Studies Elizabeth Hartmann and Professor of Asian Studies and Politics Kay Johnson. Risech was struck by the view that we are bound to overpopulate the planet because of "innate human behaviors." She asks, "How can they be using nature to justify this? There are these dogmatic lines."

Risech's Div III committee had Hartmann as a member, with Assistant Professor of Legal Studies Jennifer Hamilton and Professor of Biology Lynn Miller as co-chairs. Professor Miller also co-chaired (with Hamilton) a project on Geneticization and its Implications for Health and Healthcare, by Jamie Moody 06F. He said of both projects: "I'm co-chairing because they are really combining science and social science."

"Lynn Miller in general has been a really good advisor to me," Risech says. "He's been a person who I would sit down with and say, 'Have you thought of this?' and he scrambles around his office and grabs a book and says, 'Read this!' I took advantage of how often he's there and willing to engage with students."

Risech says she has worked as Miller's assistant for the last two years, a job that includes filing the numerous journals to which he subscribes. While filing, she would photocopy articles to read later, "to try to read as much as he does," she says.
Risech, who graduated May 22, will work in a research lab at The Channing Laboratory in Boston, a part of Brigham and Women's Hospital and Harvard Medical School. She got the job even before completing her project.

"I finished my second chapter and went, 'I can't wait, and I'll feel so much better working on my Div III once I have a job lined up,'" she says. She used Hampshire's Career Options Resource Center website, answered every relevant Craigslist ad, and began applying directly through hospitals' websites. Her tenacity paid off. "I got a lot of offers," she says.