Tuesday, June 8, 2010
An exhibition of work by alumni artists is part of Hampshire College's 40th anniversary celebration. Assembled by art professors and graduates of Hampshire, the show includes 93 pieces, plus six videos and one sound piece.

The 40th Anniversary Alumni Art Exhibition will remain in the main gallery at Hampshire (library building) through July 30. The public is welcome during regular gallery hours, Monday through Friday from 10:30 a.m. until 4:30 p.m. Admission is free.

Diverse media, backgrounds, and subjects

The show includes pieces by established and internationally recognized artists who entered Hampshire from its earliest years, after it opened in fall 1970, and runs up to promising younger talents who graduated as recently as last month.

These artists hail from across the country and around the globe, tackle a broad range of subjects, and work in a variety of media. The show includes paintings, collage, photography, illustration, sculpture, pottery, comics, geometric origami, microscopic photography, jewelry, and tintypes.

In common: a Hampshire education

What connects the work is the connection of every artist to Hampshire College. As the exhibition catalogue states: "Hampshire artists are exposed early to a variety of different tools and materials that they may use to express themselves and explore their artistic voice within a liberal arts context.

"A Hampshire education not only enables students to overlap disciplines and technologies, but actually allows new forms to emerge as well. Hampshire graduates in studio art have gained admission to the top MFA programs nationally and internationally. Alums are currently exhibiting at premier galleries and museums in New York and worldwide."

Among Hampshire alumni artists with work in the show:

Page Allen — Stellar Jay, oil on panel.

Keliy Anderson-Staley — Tintype portraits.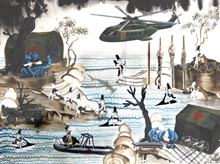 Larissa Bates
— Head Honchos at Military Base Camp, Man Power, acryla gouache and ink on paper (at right).
Gideon Bok
— Borrowed Tune (John Hull & Rolling Stones), oil on linen.
Nicole Cohen
 — Inside Outside, print.
E.V. Day
— study based on Hugh Hefner's private jet.
Alex Holden
— West Side Improvements, ink on paper (nonfiction comics).
Eric Lusin Hou
— Read 2009, archival print on paper.
John Huggins — Malibu #4 2007 (1995-2007), pigment print (at top of page).

Daniel Kohn — Dataset, inkjet mounted on aluminum panels (at right).

Eve-Lauryn Little Shell Fountain — The Pages of Memory, silver gelatin print.

Carly Ries — Untitled, from the series Becomings, gelatin silver print.

Steven Siegel — Bridge 2, photograph of paper site sculpture at Arte Sella, Italy.
More about Hampshire College's 40th anniversary celebration >>