Monday, June 14, 2010
"We didn't walk into a package deal. It was something we had to create."

Four decades later, Julie Thompson 70F still feels the excitement of being in the first class of Hampshire College students, a legacy marked from June 11 to 13 during Hampshire's 40th anniversary celebration. More than 1,200 alums, faculty, and staff turned out for a weekend filled with receptions, lectures, performances, and countless opportunities to reconnect and look back on how a college and its students have grown.

"There were great people who started this adventure. These individuals took an incredible risk, and because of them we are who we are today," said Luis Hernandez 70F.

Howard Paul, the man in charge of Hampshire's construction, laughed with second president Charles Longsworth at the thought of the still mostly-undeveloped farmland that students found while arriving on a sweltering September day in 1970.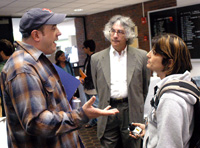 Jeff Sharlett 90F noted the impact of being in Michael Lesy's first literary journalism class and how it still influences his writing.

Patricia Klindienst 71F recalled the classes with history professors Penina Glazer and Miriam Slater that helped her find her "voice and subject."

Over and over again, the memories of the Hampshire education, and the effects it has had throughout the ensuing years, cropped up across the campus.

"There's some secret sauce here, and it's hard to describe to people," said Ken Burns 71F. "If you come here, we will give you the recipe, and it will change your life. I know that what transpired here, the recipe I was given, made me a different person than I was when I came here."

That the College is still building and expanding on its experimental foundations was a fact lost on few. Many former students used the anniversary to make suggestions of their own on how to keep Hampshire growing in the next 40 years.

"What everyone anticipated would be a sprint turned out not only to be a marathon, but an iron person endurance run of decades," said past Hampshire president Gregory S. Prince, Jr., of Hampshire's continued evolution.