Thursday, June 24, 2010
Who am I? To answer that question, groups as well as individuals look for similarities and differences, real or imagined, with others.

It is this working out of identity—with a particular focus on ethnicity and immigration—that lies at the center of Hampshire College professor Rachel Rubinstein's new book, Members of the Tribe: Native America in the Jewish Imagination, published by Wayne State University Press.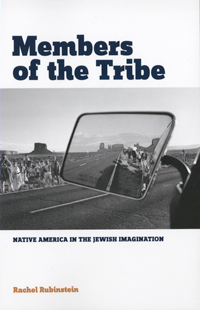 An American studies and Jewish literature professor, Rubinstein holds a bachelor's degree from Yale and doctorate from Harvard, where she began the research on identity, ethnicity, and cultural comparisons in literature that ultimately led to her writing Members of the Tribe.

"I was interested in Yiddish literature in America and in translation. While working on research for my dissertation, I found a group of American Indian chants translated into Yiddish in the 1920s," Professor Rubinstein said.

"The 1920s were a period when there was a great deal of interest in all things Indian. As immigrants were trying to write themselves into America, they were using Native Americans to work out all kinds of questions about national identity."

Within the larger Euro-American immigrant search for identity, Jewish literature and cultural engagement with imagined Indians took distinct forms, Rubinstein discovered. The literature reflects particular engagement with themes of tribalism, modernization, diaspora, and nationalism, as Jewish immigrants tried to be more at home in America.

Members of the Tribe examines Jewish identity and the meaning of "the tribe" from the 17th to the 21st century. During the Enlightenment, for example, modernism could mean having to give up tribal identity. Something similar was happening in "the New World."

Simultaneously, the American founding myth was developing, along with the idea of the American Indian as descended from the lost tribes of Israel. In some of the literature that Rubinstein examines, these myths were re-imagined and rewritten by both Jews and Native Americans. The comparative cultural self-fashioning was multidirectional, as Native authors imagined Jews and Jewish authors imagined Native Americans, in the search for identity.

Professor Rubinstein also examines later radical writings from the left by Jewish authors including Tillie Olsen, Michael Gold, Nathaneal West, John Sanford, and Howard Fast; and by Henry Roth, whose thought and writings moved over time from Marxism to Zionism.

Members of the Tribe concludes with discussion of complicated contemporary struggles involving cultural and territorial sovereignty as reflected in literary and political discourse as well as in museum spaces.

Publisher's information and ordering