Tuesday, June 29, 2010
A chance encounter led Amy Mendes 06F to an unexpected opportunity: a literary agent from Boston happened to be visiting another student's Div III (senior project) show when he saw Mendes' artwork and told her it should be published.

"It was very exciting to get that much recognition," says Mendes, "but also scary because I wanted to make sure that I was doing what was right at the time."

She is signing on to work with the agent, who will soon send her Div III, entitled 'where are you', to publishers.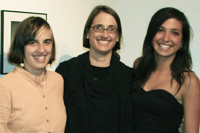 Mendes (shown on far right) has been drawing with pen and ink for much of her life, and knew it would be part of her Div III—she just didn't know how. So she put her pen aside and started working with other materials to ignite her creativity.

"In November I was playing with clay and I made a clay monster. I decided that was the character I wanted to work with," she says. "From that, I developed a series of 36 pen and ink drawings that chronicled this little monster's journey."

Mendes uses the term "monster" loosely: the character is a young, pot-bellied, big-eyed furry creature. The story follows him as he returns to his home after playing outside, and begins to search through the rooms looking for his mother. There are only two pages with writing in the entire story, which is told through 4-inch and 8-inch square panels. 

"Though this is a children's book, it has themes that an adult can identify with as well," says Mendes. "One of my goals was to make something that was accessible to both young children and adults."

Drawing is a personal endeavor for Mendes, who says that the story, while fictional, includes aspects of her life. "The monster and mother were both part of me," she says, adding, "it's about finding a piece within myself that's both the adult self and the child self. And I wanted to honor my mom in this work and honor the parts of her that have become me as I've gotten older."

Mendes is taking the summer to relax, which for her means changing her artistic medium—she's learning embroidery—to refresh her imagination as she searches for her next big project.

Div III faculty committee: Associate Professor of Sculpture Thom Haxo served as Mendes' committee chair and Professor of Art William Brayton was her committee member.