Tuesday, July 6, 2010
40th celebration information >>
Hampshire's 40th anniversary celebration in June will draw alumni from around the world. David Cantieni 73F will do what he can to get them all dancing.

Cantieni's band, Wild Asparagus, is one of the featured performers for the 40th anniversary weekend. Their repertoire is built mostly around contra and other traditional dances, which he believes can serve as catalysts for rekindling old friendships, and forging a few news ones, too.

"What's great about this kind of music is that you get to interact with a lot of people. It's simple dancing, and you get to mix around," says Cantieni. "Contra dance music is one of those melting pot genres. It's like New England, there's some Irish, some French Canadian, some Scottish. It is the ultimate social dance."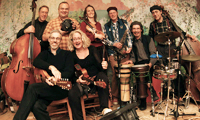 Cantieni initially planned to study agriculture and ecology at Hampshire, but eventually focused on intensive classical oboe study. It was at Hampshire that he was first introduced to the folk-style dances, which eventually led to his picking up Irish flute, the sax, and other woodwind instruments for a variety of dance bands.

"When I got to Hampshire it was just a relief. People really wanted to learn something here, and the ability to learn independently was really important to me, too," he says.

Thirty-seven years after his arrival in the Pioneer Valley, Cantieni's interests in both music and nature remain. He and his partner, Wild Asparagus singer, pianist, and guitarist Ann Percival, live amidst dozens of acres of woodlands in South Deerfield. As has been the case since they met in the early '80s, hardly a week goes by without a concert or two. The first Saturday of every month they play at Greenfield's Guiding Star Grange, where Cantieni is Grange master and where Wild Asparagus (a name coined when band members were living in North Hadley, a region known for asparagus growing) recorded their most recent CD, "Live at the Guiding Star Grange."

The current incarnation of Wild Asparagus consists of Cantieni, Percival, fiddler Becky Tracy, caller and concertina player George Marshall, and a variety of bassists that include Corey DiMario, Mark Murphy, Harry Aceto, and Ralph Gordon. Whether playing their monthly dance at the Greenfield Guiding Star, hosting their annual "Tropical Dance Vacation" on the island of St. Croix, or entertaining the crowd at Hampshire's upcoming 40th anniversary celebration, the band knows what their dancers want to hear.

"In the music business, you have to carve out your niche. We play all over the country now. It's a whole network. We've played some places where they never had live music," Cantieni says. "For me, live music is where it's at. It's the interaction, the fact people are dancing to your music. That's the really big thing."