Tuesday, August 10, 2010
Author Jeff Sharlet 90F talks about learning his craft in Michael Lesy's courses
Hampshire graduate Jeff Sharlet 90F writes about religious fundamentalism and politics. He interviews celebrities, edits high profile magazines, appears on TV a lot, and teaches at Dartmouth. That said, his toughest audience might have been in a Hampshire classroom two decades ago.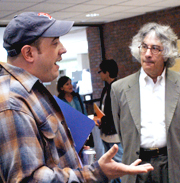 "You need to have teachers who hold your hand, and then other times you respond to someone telling you that you screwed up," says Sharlet.
The one who most emphatically did the latter for Sharlet was Michael Lesy. Sharlet was in the literary journalism professor's first class at Hampshire.

"Learning how to teach something makes you figure out how you make the art. I was hired in 1990 to teach literary journalism, which is perfect for Hampshire College. It's for people with heart, guts, and wit," says Lesy, noting that to do it right, you go out in the field, "come back more or less intact and write what amounts to the whole truth."

Sharlet's been doing that since his student days. Well known for his bestselling book The Family: The Secret Fundamentalism at the Heart of American Power, his career has taken him from Rolling Stone magazine to MSNBC's "The Rachel Maddow Show" and countless publications and programs in between. This success is built largely around Sharlet's ability to weave people, facts, and ideas into interesting, often deeply important stories. He acknowledges that taking Lesy's class was a key step in honing the skill set that enables him to do this.  

"There are lots of writing teachers who like disciples and schools. There's a very Hampshiresque quality about Michael Lesy. He's constantly shoving you into the world," he says.

The introduction to his professor's critical approach came quickly. After successfully "auditioning" in writing for the class, Sharlet wanted his next story to make a big impact. Driven by an impassioned, if misdirected, bent for environmentalism, the young student Sharlet decided to go to a nearby quarry, pour sand into machinery, and then write about the results. Things didn't go entirely to plan.

"I got scared and didn't do it, then came back and wrote a real piece of [junk]. When Michael returned it, there were two lines crossing out each page, every page, and his comment was 'Take your mighty pen, Don Quixote, and rewrite it,'" says Sharlet. "I appreciated that."
It's a demanding, but fair approach Lesy takes with all his students.

"You do need to have standards. This line of work, literary journalism, is really hard. If you want to be ready for it, this is what you have to do," he says. 

Sharlet agrees. Now he's doing his best to provide that lesson to his own students.