You are here
Hampshire in Top 10 ''Coolest'' Schools, Says Sierra Magazine
Monday, August 16, 2010
Hampshire College is number 10 on Sierra Magazine's list of the nation's "coolest" schools, selected for their efforts to stop global warming and operate sustainably.
List >>

The magazine's September/October cover story "spotlights the schools that are making a true difference for the planet."

"With all of the environmental challenges we face, it's heartening to see the leadership schools like Hampshire College demonstrate when it comes to protecting the planet," said Michael Brune, the Sierra Club's executive director. "This generation of students cares deeply about protecting the environment, stopping global warming, and increasing our prosperity through innovation."

Green Hampshire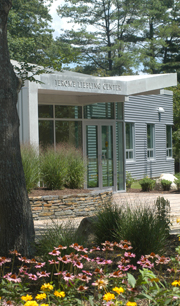 Environmental responsibility and sustainability initiatives are part of the culture and ethos of Hampshire. Recent energy efficiency and building projects contribute to efforts to curb climate change.

The new Ken Burns Wing of the Jerome Liebling Film/Photo Center received LEED Gold certification for sustainable building construction.
A project currently in progress, the solar canopy in the Longsworth Arts Village will serve as a research and educational tool as well as assisting in generation of energy. Energy reductions >>

Approximately half of Hampshire's students live in apartment-style units and prepare their own food. Some participate in the Local Foods movement and many buy Community Supported Agriculture (CSA) shares from the college Farm Center.

For those who eat in the dining hall, vegetarian and vegan options are available at all meals. The dining hall, too, purchases CSA shares from the Farm Center, which grows food and operates with a sustainable, organic focus.

Green Academics

Hampshire professors are leaders on environmental and sustainability issues in their research and teaching. For example, Charlene D'Avanzo is among educators working on the National Ecological Observatory Network (NEON), the largest ecological project in history.

Michael Klare is recognized internationally for his writings on the politics of oil and energy. Steve Roof coordinates a climate change research project in the High Arctic for undergraduates.

Courses vary from year to year at Hampshire, and include a broad array of interdisciplinary classes concerned with the environment. Among recent course titles are: Sustainable Living; Sustainable Technologies; Sustainable Hampshire: Getting to climate neutral; Renewable Energy; Agriculture, Food and Health; Biomass Energy/Biofuels; and the Sustainability Seminar.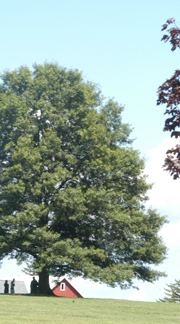 Students & Sustainability

Each Hampshire student completes an individualized program of study. Every year Division III (senior) projects are completed in environmental studies, ecology, sustainable agriculture, and combinations of these and other fields. Innovative projects completed by students working in the Lemelson Center range from alternative transportation models to appropriate technology for developing countries.

Outdoor and field-learning experiences are integrated into students' programs. Student groups include a Yellow Bike program, local foods initiative and local foods fall feast, community garden, Friends of Fermentation, and New Leaf, an on-campus education organization that works for energy reduction.

Our Amazing Alumni

Among our alumni are pioneers in founding environmentally friendly and socially responsible businesses, often with an approach that grew out of their Hampshire work and experiences.

To cite but a few of the many Hampshire graduates whose careers make a difference in environmental sustainability: Gary Hirshberg, founder of Stonyfield Yogurt; Greasecar founder Justin Carven; Nancy Grimm, past president of the Ecological Society of America; and authors Edward Humes, Eco Barons, and Nancy Lord, Rock, Water, Wild, and Alaska writer laureate.
Custom Ads